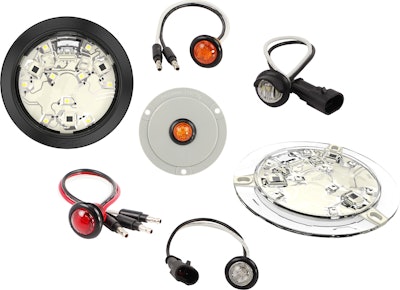 Phillips Industries has introduced new lighting products to the Permalite XT family.
The new lights include a 4.0 in. round reverse light and a 3/4 in. round hard-wired light for multiple applications. New adapter plates for upgrading to 3/4 in. LED lights have also been added.
The 4.0 in. round clear reverse light with Boardfree technology and nine diodes comes in either flange or grommet mount. Phillips Industries says it can be mounted in any direction and still meet SAE R and DOT specifications. Constructed of ABS and acrylic material, the lights offer superior durability and are impact resistant, as well as resistant to corrosion, harsh chemicals and UV exposure, the company says. The integrated male 3 pin AMP connector also is sealed and greased to keep corrosion causing contaminants out.
The 3/4 in. round hard-wired lights are being introduced as an alternative where space is restricted. They are constructed with a polycarbonate lens and the housing is sealed to protect the three diodes inside from outside contaminants and moisture. Phillips says the new lights are available with a variety of lens colors and wiring configurations for single or dual function marker/clearance, auxiliary and license lighting applications. All hard wired lights include their correlating mounting grommet, the company says.
Additionally, the 2.0 in. and 2.5 in. mounting adapter plates constructed of non-corrosive polycarbonate material are being introduced to upgrade from traditional 2.0 in. and 2.5 in. flange style lights to smaller, more efficient LED lights.