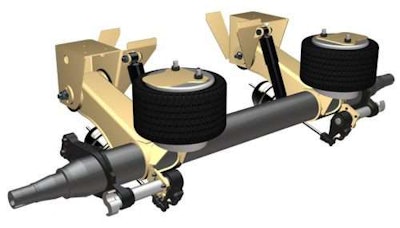 Ridewell says its 20K and 25K Low Mount Trailer Suspensions for its RAR-266 family are now available in drum or disc brake axle configurations with standard or custom axle widths.
The 20K suspension can be configured for use with 19.5- and 22.5-in. tires at a 7-in. ride height and uses a narrow bushing design to facilitate a lightweight durable system that fits applications with limited space.
The 25K version allows customers to standardize on a wide-bushing pivot connection while accommodating 6.5- to 9.5-in. ride heights. Both systems take advantage of a 5.75-in.-diameter axle combined with short cams to help minimize axle weight.