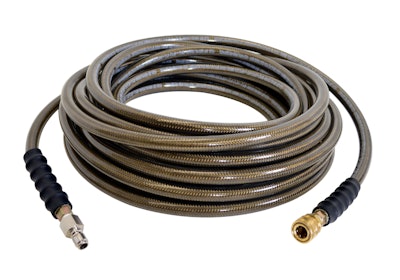 Water Cannon introduces its Monster pressure washer hose, which the company says is made with a dual-braided construction of steel over polyester and jacketed with translucent polyurethane for high strength, durability, and kink resistance.
Equipped with quick connect fittings for quick and easy setup and a 3/8 in. male QC plug by 3/8 in. female QC socket, Water Cannon says its hose's translucent polyurethane outer jacket is non-marking, abrasion resistant, wipes clean with one pass and is designed to fit most gas pressure washers with standard quick connections. Water Cannon says the abrasion-resistant outer jacket withstands five times more surface contacts than standard wrapped cover pressure washer hoses.
Available hoses include a 4500 psi rated standard size 50-ft. assemblies, as well as 100, 150 and 200 ft. lengths.