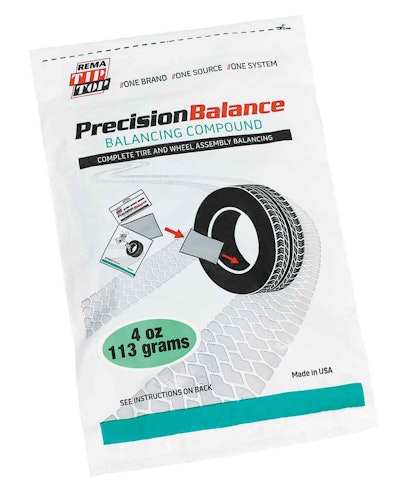 REMA TIP TOP North American introduces PrecisionBalance, a wheel balance product for light- and medium-duty truck tires.
"PrecisionBalance is a premium, internal balancing compound that provides an accurate, continual balance within the tire/wheel assembly for the life of the tread," says Curt Evey, vice president of Sales for REMA TIP TOP. "Its ability to quickly adjust to the changing imbalance conditions provides the correct and perfect method of being able to balance all wheel assemblies resulting in fuel, labor and tire savings. The PrecisionBalance compound is a coated, tempered glass bead that is dust free, it will not ball up/clump up due to moisture/water."
According to REMA Tip Top, the product includes a 'Throw-in-Bag' thus resulting in a quick, easy and time saving method of installation during the tire/wheel mounting process. The PrecisionBalance applicator pump also can be implemented when installing the product in mounted tires.
The company says PrecisionBalance is packaged in nine different sizes to accommodate the variety of the tire/wheel assemblies available in today's market. The PrecisionBalance application chart is available in print or accessible using the PrecisionBalance app that can be downloaded to a smart phone device, the company adds.