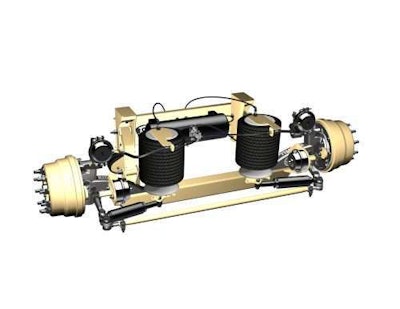 Ridewell Suspensions says it now offers a pre-plumbed, factory integrated air tank kit option for the self-steering RSS-233 8K, 10K, and 13K suspension systems.
The integrated tank only requires a connection to the primary air supply, regulated air supply (30-120 psi), and service brake control line to complete vehicle installation. Ridewell says the kit includes a 1,300 cubic in. air tank and a pressure protection valve (PPV). A 30 amp relay for lift in reverse operation, pigtail and high flow Lift Axle Control Module (LACM) are included to remove the need for an air control kit enclosure.
Ridewell says a pressure gauge, pressure regulator and hoses for primary air supply connections to complete vehicle installation can be purchased separately to be shipped with the suspension.