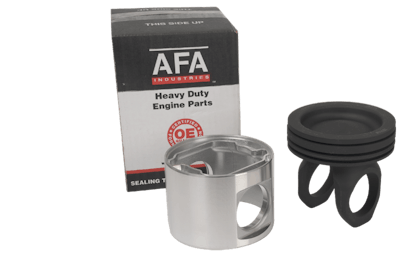 AFA Industries has announced the availability of a new articulated steel piston for EGR engines with 16.5:1 C.R. and a 3.0 mm top piston ring.
It is available now in cylinder kit part number D23530612.
Also available are in-frame and complete overhaul kits for the Detroit Diesel Series 50 8.5L and Series 60 11.1L/12.7L engine families using this articulated piston.
Features and benefits of this new cylinder kit include:
3.0MM top piston ring with special proprietary coating to reduce high heat scuffing and provide excellent break-in protection.
Manganese phosphate coating on the piston crown to improve break-in performance, provide superior corrosion resistance and help reduce pin bore scuffing.
Features and benefits of AFA's in-frame and overhaul kit packages include:
Bainitic liners for strength and improved wear resistance.
AFA's AFAGRAPH Graphite Cylinder Head Gasket that features steel staked water jacket grommets, stainless steel fire rings and a rigid steel core that provides superior sealing capabilities.