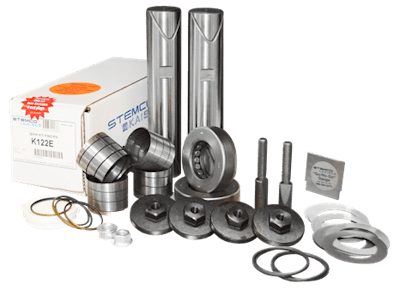 STEMCO is recognizing more than 50 years of its product, Qwik Kit King Pin Kits.
STEMCO says the kit—one of the most durable and long-lasting king pins on the road—has been developed and perfected over the past 40 years using a proprietary method for evaluating the performance of comparable OE and aftermarket king pin kits.
"Qwik Kit king pin kits last up to four times longer than OE and aftermarket king pins and install more quickly than reamed king pins," says Alejandro Ayala, segment business leader, suspension. "Fleets that use the Qwik Kit rely on our product for consistent lubrication, improved durability and higher impact strength resulting in longer life than other kits on the road, today."
STEMCO says its proprietary king pin kit design enhances durability by increasing the flow of lubrication to high-wear areas. Its configuration of lip seals and self-cleaning bushings eliminate debris and contaminants between the pin and bushing to ensure longer king pin life, the company adds.
"We strive to offer products that deliver on our goal of 'Making the Roadways Safer,' and Qwik Kit king pin kits are no exception," Ayala says.