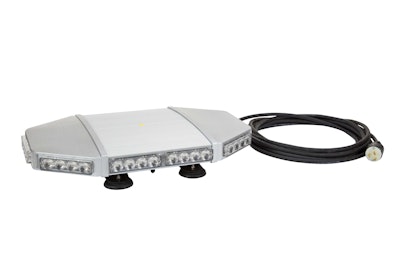 Larson Electronics has released a 32 watt mini LED strobe light equipped with a 16 ft. cord terminated in a general area cord cap for connection to 120 to 240 volts AC power sources.
The 9200-LED-S-M-1227 mini LED strobe light bar from Larson Electronics offers high signal performance in a compact design that can operate on any voltage ranging from 120 to 240 volts AC, the company says. This compact mini strobe light encloses thirty-two, 1 watt amber LEDs within a polycarbonate lens enclosure for durability and protection from the elements. Two 50 lb. grip magnets are integrated with suction cups, providing operators with the ability to mount the unit on a smooth surface such as glass, as well as metallic surfaces such as vehicle roofs and equipment railings. Larson says this mounting combination allows users to expand the possibilities of mounting surfaces beyond the standard ferrous metal. The magnets on this unit are also protected by felt to prevent the possibility of damaging a surface.
Additionally, the company says the beacon has a low 2.7 amp draw, produces a highly visible ten joules flash per strobe, and is rated Class 1 signifying the brightest intensity possible. Its cord ends in a standard straight blade plug provides easy connection to standard plug sockets. An inline switch allows operators to turn the unit on and off without having to disconnect from the socket. This mini LED strobe light bar is typically used for security vehicles, utility trucks, and emergency service vehicles, the company says.
"This LED strobe light bar is SAE Class 1 rated and produces 4 times the amount of light as a Class 2 rated strobe light," says Rob Bresnahan, CEO of Larson Electronics. "Class 1 strobe lights are typically ideal for emergency vehicles such as police, fire and ambulance."