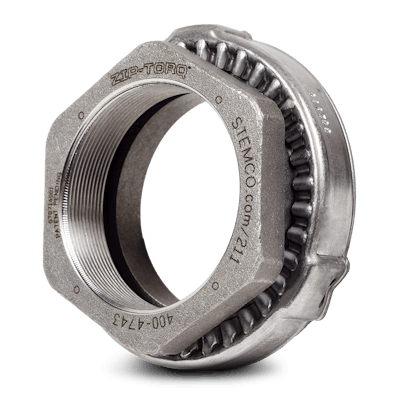 STEMCO has released its Zip-Torq single-piece axle fastener.
STEMCO says Zip-Torq simplifies and streamlines the wheel end bearing adjustment with its single-piece, unitized design. The Zip-Torq eliminates special tooling and loose components like clips, keepers, snap rings or screws.
STEMCO adds that the patented Zip-Torq heavy-duty self-locking mechanism also delivers increased simplicity and safety by preventing inadvertent back-off. Consistent locking force is maintained by the high-strength wave spring, further eliminating unwanted back-off, the company says.
"Zip-Torq is the natural result of our safety culture and decades of progress developing wheel end systems," says Chip Stuhr, director of STEMCO Wheel End products. "The STEMCO Pro-Torq nut revolutionized the way a wheel end was adjusted and set, and Zip-Torq is the next step in our mission of Making the Roadways Safer."