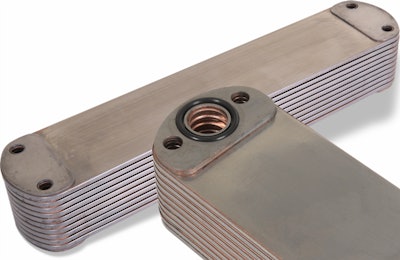 AFA Industries is now offering the A2892304 oil cooler core for Cummins ISX/QSX engines.
AFA says Cummins has redesigned the oil cooler for its ISX/QSX engines. The new design Part No. A2892304 utilizes O-Ring Seals and has a stainless steel oil cooler element. The old design Part No. A4965870 used Rubber Edge Molded (REM) style gaskets and had an Aluminum oil cooler element, AFA says.
Customers interested in the part must use two (2) of the O-ring part number (A4966084), AFA says, in order to seal the new design cooler A2892304 correctly.
Additionally, AFA says Cummins recommends that because of the new design O-ring sealing method, part of the mounting hole becomes exposed and should be sealed with a chemical resistant, anaerobic sealer on the threads of the oil cooler mounting bolts.