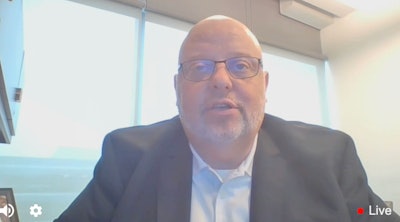 Workforce recruitment and training as well as a shortage of parts and their increased costs as they relate to heavy truck maintenance were a few of the topics highlighted Wednesday at the Virtual Diesel Expo held May 17-19, and hosted by Diesel Laptops and Alliant Power.
"When you think about pain points today and everything we have going on around us in the industry, it all starts with people. We hear a lot about drivers, but we hear very little about the technicians or even supervisors and managers," said Gerry Mead, vice president, equipment and maintenance, Hub Group.
Mead cited the U.S. Bureau of Labor Statistics, which predicts approximately 28,100 openings for diesel technicians each year, on average, for the next 10 years. He added the ongoing development of autonomous trucks will not lessen the need for techs because "you still need someone there to replace a component or a part. There is still a lot of work to be done by hand and there's not a robot that can do it today."
[RELATED: The importance of e-commerce sites during a parts shortage]
Mead urged attendees of the virtual expo to look into best practices for recruiting technicians because the number of technical training programs in high schools are dwindling. He suggested what other OEMs and aftermarket distributors have done and get involved with existing technical and vocational schools "so you can garner your workforce," he said.
Another promising source of potential heavy truck technicians are military veterans.
"They're disciplined. They're very methodical from a diagnostic standpoint because that's how they're taught and that's we want. There are veterans out there who have been working on military equipment and they're entering the workforce every day," Mead said.
He added the trucking industry is competing with police and fire departments who also value veterans for their discipline and work ethic. "[They're] recruiting hard and we should be doing the same thing."
To keep recruiting strategies from becoming a futile exercise, Mead also emphasized companies need to have a retention plan for their employees.
"Everyone wants to talk about pay, pay, pay, but there are several studies [indicating] people don't leave for short pay, they leave for bad management or lack of opportunity. What's your training program look like?" he said.
[RELATED: Battling inflation while maintaining customer relationships]
Not only does training keep techs engaged, but it also helps service providers manage with the number of techs they have currently. Gone are the days of "that's my AC guy," or the transmission bay is closed for the day if "the transmission guy" is out for the day, Mead said.
"When you think about lowering the pain points in maintenance, it goes back to people and the right training. You have to look to mitigate the imbalance of talent, which isn't a good model for the future. You have to really get technicians good at everything. Target their weaknesses. You'll have some blanket training, but you also have to get into targeting training for each person to make them better, which is going to make you better," he said.
Of course, as Mead put it, having all the technicians you could possibly need doesn't matter much if you don't have the necessary parts. Compounding the parts issue is the rising cost of them.
"Everything is subject to an increase at this point. With tires alone, which are our top maintenance expense, there has been four to five increases dating back to 2021," Mead said.
Mead offered some tips for getting through the parts shortage:
When is the last cycle count you did? Proper parts room procedures shine through
Safety stock — form alliances with vendors to keep parts on the shelves
Right part on the right shelf — know the importance of your inventory and having the right safety stock on hand (min-max, lead times)
Scrap is no longer scrap. Every wreck must be evaluated for vital components. Salvage has grown in value
Reevaluate your pull points
Identify trends and make appropriate moves
Understand all cross overs and have primary, secondary and tertiary sources and products, if available