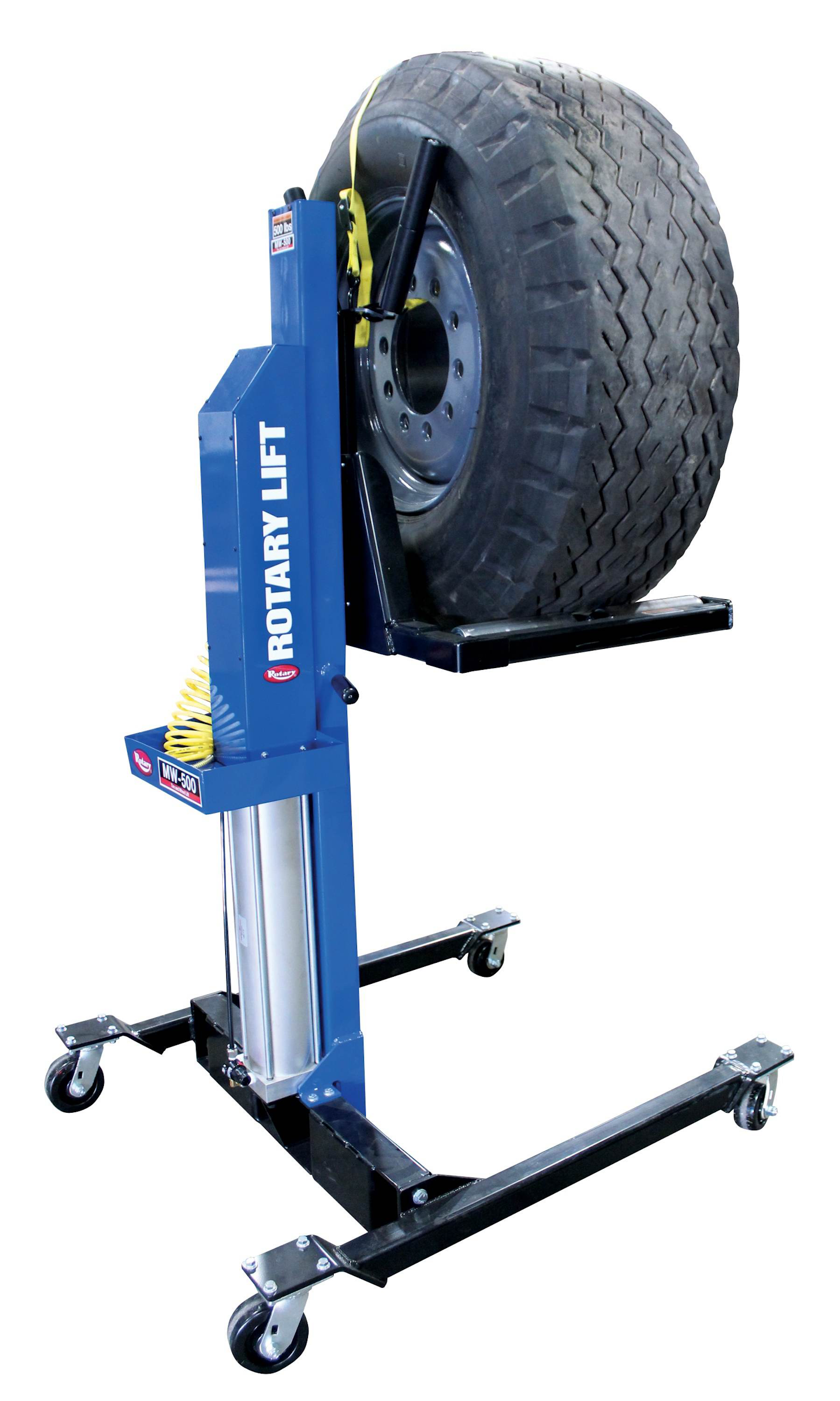 Rotary Lift's new MW-500 Mobile Wheel Lift can remove and position any size wheel or tire weighing up to 500 lbs., making it much easier and more ergonomic for technicians to work on heavy-duty trucks, buses and construction equipment, the company says.
"The removal and installation of heavy-duty tires and wheels can be a difficult, time-consuming process that sometimes involves two or more technicians," says Ron Lainhart, parts and service manager for Rotary Lift. "With the MW-500 Mobile Wheel Lift, a single technician using a vehicle lift can lift the truck to a comfortable working height, raise the wheel lift to cradle the wheel, remove the lug nuts and lower the wheel to the ground without strain. A job that used to require multiple people can now be completed by one operator."
The MW-500 wheel lift's arms are spaced wider than those on Rotary Lift's MW-200 light-duty wheel lift to facilitate moving heavy-duty wheels and tires, the company says. The arms feature rollers that allow the wheel to be easily rotated 360 degrees when aligning it with the hub and are mounted on an offset column to provide unobstructed access to the lug nuts.
Rotary Lift says the MW-500 wheel lift is capable of holding dually wheels to maximize efficiency. Each arm's roller is split in half, so a technician can load two wheels onto the lift, raise them into place, and rotate the wheels independently to align them instead of repeating the same process twice with a single wheel. A tie-down strap is included to prevent wheels from falling off the wheel lift, the company says.
The MW-500 wheel lift's rise time is just six seconds, so it does not disrupt the repair process. Since the MW-500 wheel lift is powered by air, Rotary Lift says there are never any worries about charging or replacing batteries. It comes equipped with an air hose and features an additional air tool connection on the column to reduce the number of hoses running from the compressor. The column also includes a tray for parts to keep everything organized.