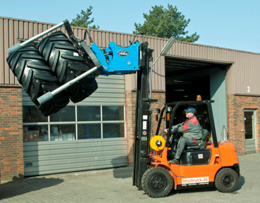 Marangoni Tread North America has added the Easy Gripper to its lineup of tire handling/maintenance products.
Marangoni says the Easy Gripper is attached to forklifts to simplify the handling and transfer of over the road tires. The Easy Gripper uses three pointed arms to secure a tire for lifting, and can grip tires securely in wet, icy or oily conditions, Marangoni says. It is designed to handle over the road tires up to 29.5R29L5.
"The Easy Gripper is an important addition that puts Marangoni at the forefront of bringing innovative equipment to the market that has an immediate impact on safety and productivity," says Don Rizzi, national sales development manager at Marangoni.
The advanced tire gripping technology of the Easy Gripper allows operators to manipulate tires for loading and unloading from trucks both horizontal and vertical, easy and safely stack tires, reduce the mounting and dismounting time of big tires on/off hubs, eliminate tire bead or side wall damage caused by forks and decrease the opportunity of accidents or injury from tires not properly secured while being moved, the company says.