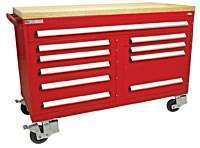 Vidmar introduces its new rolling tool chest.
Built using heavy-duty casters, the company says its mobile cabinets are easy to move and can be quickly and easily within a repair facility.
Vidmar says its mobile cabinets also require lock-in/lock-out latches to secure drawers. As a result, parts stay safe and secure while drawers are closed and are easily accessible when drawers are open.
The chest also is designed to increase efficiency and reduce the amount of time it takes to locate parts. Custom foam inserts, plastic bins, and dividers allow for optimal organization and maximized service, the company says.