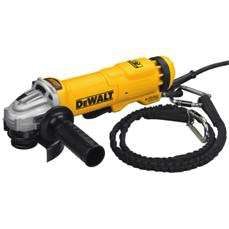 Dewalt has introduced three new 4.5 in. small angle grinders (DWE4222N, DWE4222, DWE4224) that the company says are ideal for operating in tight spaces.
Dewalt says two of the new grinders (DWE4222, DWE4224) feature a Lanyard Ready Connection, which allows users to utilize a lanyard to tether the grinder to rigid structures at jobsites, and brake that stops the wheel 50 percent faster than previous models.
"The new 4.5 in. small angle grinders raise the bar for the compact small angle grinder with improvements in the key focus areas durability, performance, ergonomics, and ease of use," says Sean Kelly, group product manager.
Dewalt says key improvements include the Lanyard Ready Connection, improved brake system, a Dust Ejection System that has been taken to a new level of design and functionality, an e-clutch that activates in less than a tenth of a second when a wheel pinch/stall event is detected, and the new motor design. Dewalt says a new motor platform also has been developed yielding 40 percent more copper than the motor on the D28402, upgrading the grinder to 11 Amps and adding another 200 max watts of output power.
At 4.6 lbs and a circumference of 194mm, the slim, ergonomic body design of the grinders allow for comfortable use without sacrificing the performance that users want and need to perform tough cutting and grinding applications, Dewalt says.