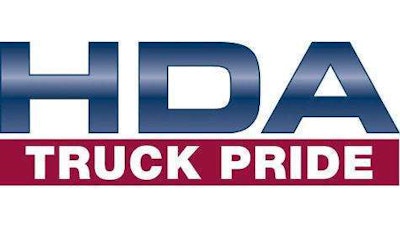 HDA Truck Pride has partnered with iMatics LLC to introduce a comprehensive telematics program for the commercial vehicle aftermarket.
A first in the heavy-duty aftermarket, the integrated platform delivers "a telematics ecosystem with mutually beneficial results to fleets, independent repair facilities and the HDA Truck Pride membership network," says Tina Alread, director of sales and marketing at HDA Truck Pride.
The iMatics platform works by affixing a small Geotab Go7 console within a vehicle and plugging it in it via a J1939 connection. Once linked, the console immediately begins acquiring, evaluating and transmitting data, which it shares with the owner and the HDA Truck Pride network.
"Telematics have been in our industry for 30 years and have recently been advancing at lightning speed," says Alread. "HDA Truck Pride is proud to be on the cutting edge of this technology. We know that having a connected network with integrated platforms is necessary for the long term success of our members. Our partners at iMatics have turned our vision into a reality. We're ready to revolutionize the way parts and service get to market."
Alread says one strength of iMatics' software is found in its management of diagnostic codes. The software is designed to not only record fault code information but also to evaluate a code reading against a vehicle's history and like-modeled trucks.
This information allows the unit to include the severity of each code in the information it transmits, which Alread says better prepares the vehicle owner and HDA Truck Pride parts and service network for scheduling and completing a repair.
In addition to its diagnostic capabilities, Alread says the iMatics system also can deliver real-time data with vehicle tracking, measurable productivity enhancements, regulatory compliance standards and a comprehensive onboard fault guidance diagnostics solution to fleets. Endless enhancements can be integrated including reefer temperature and tire pressure monitoring, as well as, an advanced fuel savings software.
Alread says customers can go to HDA Truck Pride distributors to order and customize a data package to best fit their desires. Once built, each console is shipped directly from iMatics to the customer.
HDA Truck Pride is offering the hardware boxes for just $1 per unit as part of the new program's rollout.
"Right now we want to get as many of them out there are possible," Alread says.
HDA Truck Pride says it hopes to expand the program's capabilities later this year to allow iMatics' software to be added to existing telematics systems. The company also will be answering questions about the service at Heavy Duty Aftermarket Week (HDAW) 2016.
"We've been working on this program for one-and-a-half to two years now and we're excited to roll it out," Alread says. "We think it's going to be a game changer."