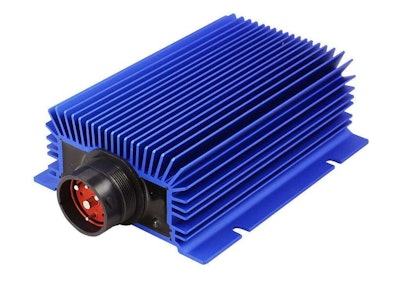 Phillips Industries has introduced the new STA-CHARGE Battery Charger for 12V liftgate/load batteries.
"When paired with a Phillips 8 gauge STA-CHARGE harness, the STA-CHARGE battery charger produces a faster charge rate than similar systems on the market today," says Adam Bean, new product development manager at Phillips.
"Other systems use a 10 gauge harness, which can increase the time it takes to charge the batteries due to voltage drop. Heavier duty connectors between the STA-CHARGE harness and STA-CHARGE battery charger also allow for a better mechanical and electrical connection which increases the life-span of the STA-CHARGE battery charger, as well as the number of lift cycles from the liftgate."
Phillips Industries says the new battery charger also incorporates a patented lock out feature, which stops the charge to the trailer batteries when the brakes are pressed. When the STA-CHARGE is pulling power from the auxiliary/ABS (BLUE) circuit to charge the trailer batteries, this safety measure ensures that all available power on this circuit is sourced to the ABS module when the brakes are engaged, the company says.
In addition to a faster charge rate and the lock out feature, the STA-CHARGE also is said to regulate over-charging of the trailer batteries and prevents the 12V truck battery from becoming so low that it doesn't start.