Collision repair equipment manufacturer Chief introduces Centurion, the largest and strongest frame rack in the industry.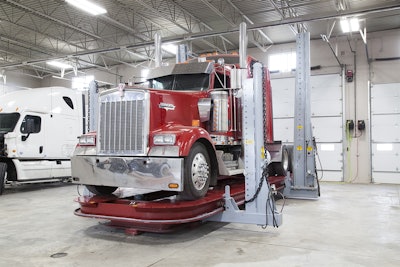 With custom lengths up to 80 ft., Chief says technicians can simply drive the largest heavy-duty vehicles into position on the Centurion, swing the towers into position, and get to work in just 10 minutes. Each tower provides 55 tons of pulling power, so Centurion can straighten any truck, trailer, bus or other heavy-duty vehicle.
"The huge productivity advantage of the technician-friendly Centurion is its drive-on capability and quick set-up," says Lee Daugherty, Chief heavy-duty sales manager. "It can take up to an hour and a half to get a vehicle ready to pull on other racks. With the Centurion, a technician can get even the largest heavy-duty vehicles on the rack, position the towers and be ready to make the first pull within 10 minutes. It's a much faster – and less risky – solution than the industry practice of hand-building a pulling system out of heavy pieces of steel every time you need to make a repair."
The deck comes in 40-, 60- or 80-ft. lengths, but it is available in any custom length that meets a customer's needs. Chief says customers can choose 10-ft. or 14-ft.-tall hydraulic towers. The towers move independently to allow true 360-degree pulling. Tower adjustments to position for the correct pull are non-strenuous thanks to the lightweight aluminum rollers and high-strength 5/8-in. 100-grade chain located in each tower, the company says.
To speed prep time, the deck of the Centurion is pre-plumbed with air, controls and hydraulic outlets every 10 ft. Chief says as each hydraulic tower is rolled into position, it is easily plugged in and ready to go to work. This feature keeps the floor clean and free of trip hazards.
The drive-on ramps for the Centurion also have spring-loaded rollers for easy movability. When in use, Chief says they are chained and locked to the rack. Ramps can be easily moved to either end for drive-on and drive-off accessibility, or quickly rolled out of the way when not in needed.