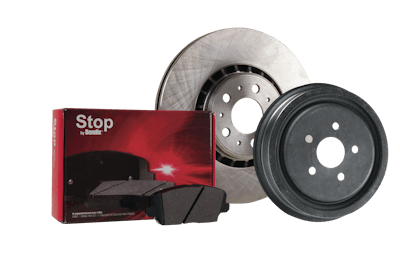 MAT Holdings, Inc., has launched an enhanced Stop by Bendix product line.
The new line offers complete all-makes, all-models brake product coverage, the company says.
The enhanced Stop by Bendix product line doubles the coverage of the previous product line to offer coverage for all makes and models of passenger cars and light duty trucks. The product line features an improved shim design, offering quieter performance, as well as the signature Bendix blue burnishing stripe. This stripe acts as a lubricant during the brake products' break-in period, ensuring noise-free performance.
Stop by Bendix products feature proprietary friction formulations and multi-layer brake shims that deliver smooth, reliable, and quiet performance, and meets or exceeds the performance of the vehicle's original brake products.
The enhanced product line was developed to address the specific needs of consumers for high-quality, high-performance brake products designed specifically for their vehicle and available at competitive price points, the company says.