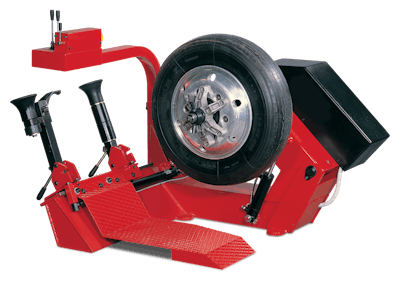 John Bean has introduced the T8010TR, a heavy-duty tire changer for businesses that maintain a fleet of vehicles as it can service truck wheels up to 24.5 in. and tires as large as 47 in., according to an announcement.
"Even with a fleet as small as 20 vehicles, the new John Bean T8010TR heavy duty tire changer is a perfect investment that will help increase performance and productivity," says Kyle Harris, John Bean product manager. "Simple and quick to operate, this versatile tire changer is also ideal for operations like bus garages and freight-forwarding organizations."
The John Bean T8010TR heavy-duty tire changer is designed to take up a minimum amount of shop floor space. The company says other features include an integrated control panel that moves into any position, enabling one technician to operate the tire changer; dual roller that is specially designed to service tubeless assemblies; and it works with trucks running cosmetically sensitive alloy wheels, including the latest reverse drop center rims.
The tire changer also enables quick and easy installation — after mounting the wheel onto the rotating chuck, both beads are quickly broken using the bead rollers, and then the tire is removed using the same bead rollers, the company says.