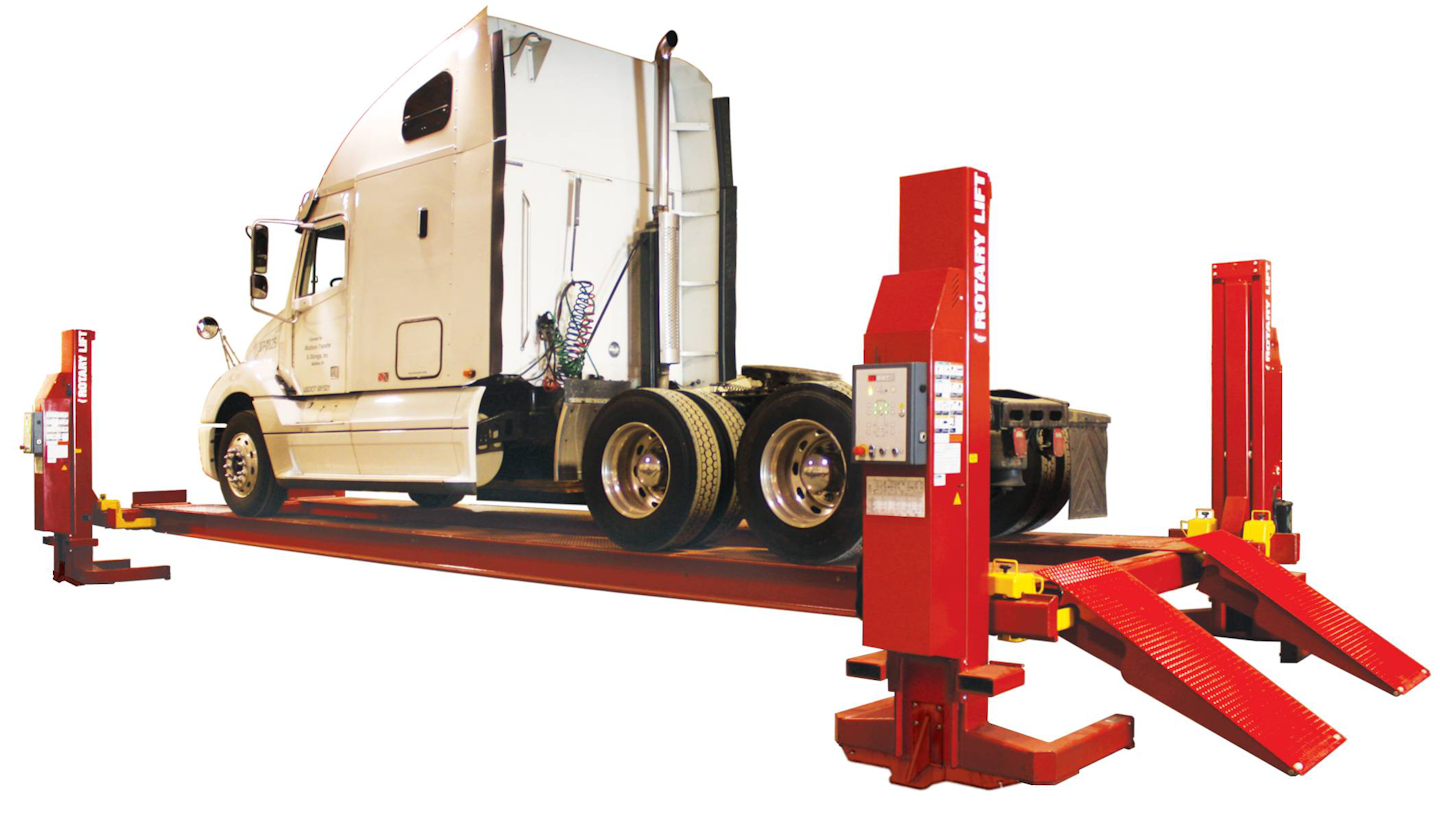 Rotary Lift introduces its news HDC series heavy-duty four-post vehicle lifts
The lifts are available with capacities of 50,000 lbs. (P/N HDC50) and 60,000 lbs. (P/N HDC60) for servicing a variety of heavy-duty vehicles including trucks and buses. The battery-powered lifts are easy to operate, economical to maintain and can raise a vehicle faster than any competing four-post lift, Rotary Lift says.
"Rotary Lift's Shockwave-equipped light-duty lifts and Mach series mobile column lifts are popular with technicians and maintenance managers because they are built to increase productivity," says Doug Spiller, heavy-duty product manager for Rotary Lift. "The new HDC series lifts incorporate the productivity features found on these lifts in an anchored four-post design. This provides an efficient high-capacity option for shop operators who have a bay that can be dedicated to a four-post lift."
According to Rotary Lift, HDC series lifts are the first four-post lifts that can be operated from any column, allowing the user to work from the corner of the bay that is most convenient. Each post is equipped with Rotary Lift's patented control system, which features an graphic layout of the lift and real-time height reading. To maximize efficiency, Rotary Life says the control panels can be preprogrammed to remember their locations even after the power is turned off.
In addition to its own control panel, each HDC series lift column includes a hydraulic cylinder. Since there are no cables or chains running the length of the runways and no sheaves, an HDC series lift is easier to maintain than a traditional four-post lift, the company says. To further reduce maintenance needs, the four hydraulic cylinders are inverted, so the chrome piston rods remain protected from debris and damage at all times.
Rotary Lift HDC series lifts are anchored to the shop floor using just a few wedge-style anchors per column. The anchors require no excavation or site preparation. Electrical installation also is easy, the company says, since the lifts are battery powered. Each column is fitted with its own batteries and an onboard charger, requiring only a standard 110V electrical connection for charging.
"Battery power, which is the driving force behind Rotary Lift's Shockwave and Mach series lifts, offers many benefits that are now available in a four-post model," says Spiller. "The DC-powered HDC lifts feature an industry-best rise time of just 65 seconds; they remain fully functional if the power goes out; and they use less electricity than other models."