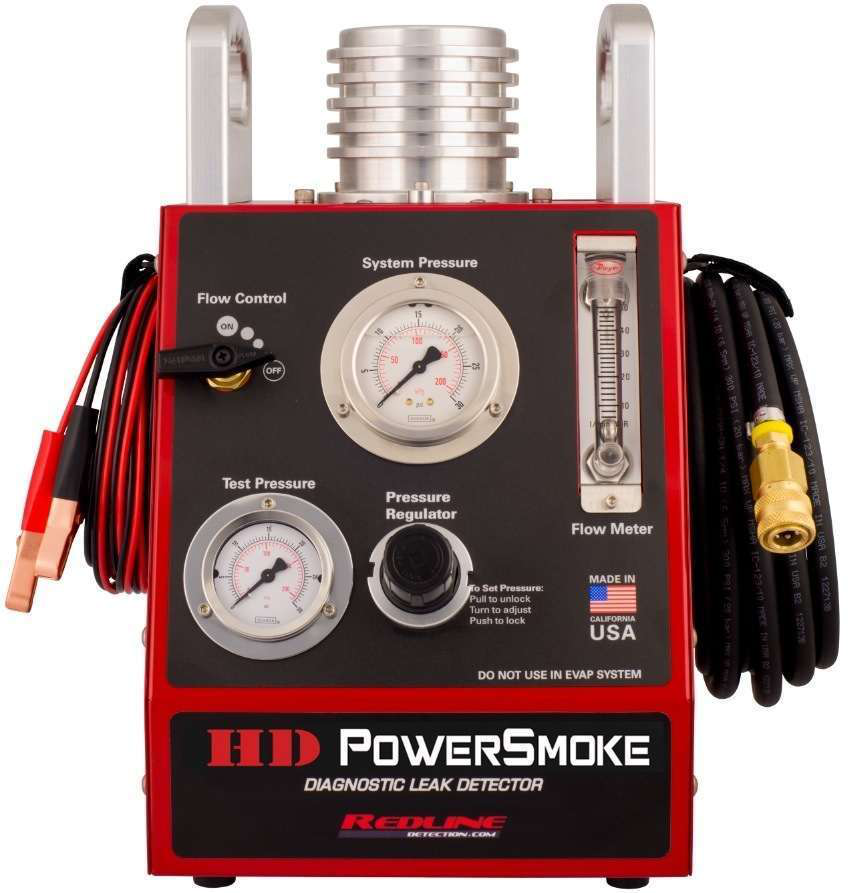 Redline Technologies introduced its new HD PowerSmoke engine leak detector for heavy-duty engines last week at Heavy Duty Aftermarket Week (HDAW) in Las Vegas.
Redline Technologies has been an industry leader in leak detection in the light-duty market for many years, says Alex Parker, vice president of strategic initiatives. Only recently did the company turn to the heavy-duty marketplace; and in conjunction with a heavy-duty OEM it has created the HD PowerSmoke as its debut product.
According to Parker, the product is designed to apply the precise pressure and volume of vapor need to test the integrity of a heavy-duty intake systems and exhaust systems in one quicker procedure. By generating variable vapor pressure from 2 to 20 psi, the detector gives heavy-duty technians the ability to vary flow as different types and sizes of leaks are visible at different pressures. And weighing in at less than 20 lbs., Parker says the product is easy to transport and move throughout a heavy-duty service shop.
Though it was introduced to the independent aftermarket last week, Parker says the leak detector has already been accepted and stocked throughout one OEM dealer network.
"HD PowerSmoke will redefine heavy-duty truck maintenance as we know it," says Zach Parker, president at Redline. "Take diesel particulate filter [DPF] issues for example. Until now, DPF faults such as excessive regeneration events or plugged DPF could be treated by refilling the diesel emission fluid, or servicing/replacing the DPF. But the truck would just return with the same issues. HD PowerSmoke solves the root of the problem by identifying boost leaks quickly to facilitate a 'fix it the first time' maintenance practice."