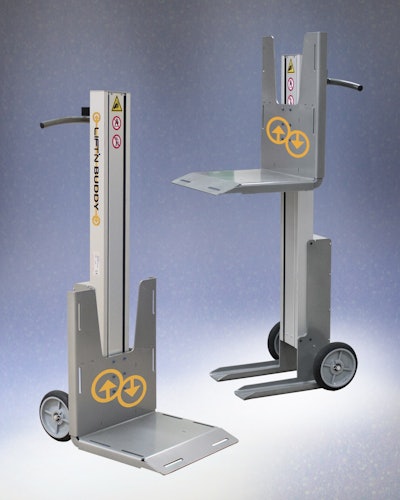 The all new LNB-2 from Lift'n Buddy is the next generation in powered elevating 2-wheel hand trucks, the company says.
According to Lift'n Buddy, the LNB-2 combines the vertical lifting capabilities of a small powered stacker with the convenience, versatility, simplicity, and maneuverability of a conventional 2-wheel hand truck.
At the touch of a button the LNB-2's powered, adjustable height platform positions loads at a comfortable height to eliminate bending and stretching when loading, unloading or moving items from one level to another. Built on a lightweight durable aluminum frame with powder coat paint finish, Lift'n Buddy says the LNB-2 is extremely maneuverable and can lift loads of 200 lbs. up to 37 in.
The LNB-2's lift mechanism utilizes a timing belt drive that is extremely quiet. Lift'n Buddy says the LNB-2 has a lifting speed of 4 in. per second, and two maintenance-free 12V rechargeable batteries provide ample power for even the most demanding applications.
And in addition to greatly reducing the physical strain of lifting heavy or awkward loads, Lift'n Buddy says the Model LNB-2 also improves productivity. Many jobs that formerly required two people can now be done in less time by just one person and a Lift'n Buddy, the company says.