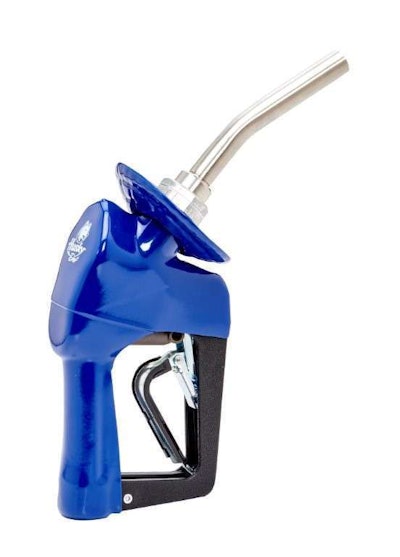 Husky Corporation has introduced a new version of its highly successful X family of nozzles for safe and economical dispensing of Diesel Exhaust Fluid (DEF).
"Many DEF nozzles can be quite expensive because of the materials required to handle it. But we have found a way to bridge the gap with a fully functional version of Husky's most popular nozzle that reduces the cost to dispense DEF," says Husky Corporation Product Engineer Roger Wiersma.
According to Husky, the X DEF Nozzle contains all of the model's standard functionality and features, coupled with components compatible with dispensing urea-based DEF, which can be corrosive to aluminum and other materials.
The X DEF Nozzle contains 100 percent ISO-recognized DEF-compatible components including Stainless Steel spout, polymers and O-ring materials. The nozzle contains an automatic shut-off feature, Husky's Streamshaper to reduce splash back, a three-notch hold open clip lever, and a plastic handguard design. Even with those features the X DEF is lighter and less expensive than comparable DEF nozzles.
And Husky says X DEF nozzle is made with UL recognized components. It is offered with three-quarter NPT or BSPP thread. It is ideal for retail outlets and commercial customers, Husky says.