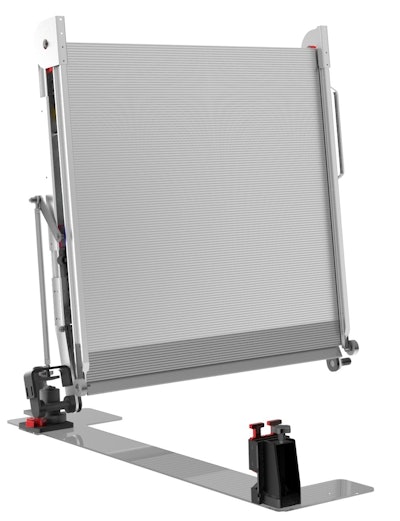 Link Manufacturing introduces its new Swivel Ramp, aimed at cargo van and box truck applications.
The 180-degree swivel capability and two storage locations of the Link ramp makes this the first product of its kind to be designed and manufactured completely in the United States. The Swivel Ramp is available for bi-fold ramps in 30 in., 36 in. and 47 in. widths; and 99 in., 108 in. and 117 in. lengths, which Link says provides up to 1500 lbs. of loading capacity.
"The Swivel Ramp marks Link's first new ramp product in several years," says Michael Hof, vice president of sales and marketing at Link. "We are very excited to offer a product that lets drivers work smarter. Our traditional mounted ramps offer some of the best durability and safety measures in the industry, but provide limited versatility for users that transport diverse types of cargo. With the new Swivel Ramp, fleets can efficiently adapt to the loading demands of individual payloads."
With its full 180-degree rotation, Link says the Swivel Ramp offers unmatched flexibility for loading and unloading any sized cargo. The Swivel Ramp mounts in the rear stored position like a traditional folding ramp, but can also be stored inside, behind the wheel well – providing options for those times when a loading ramp isn't needed. When not in use for loading or unloading, Link says it rotates outside of the vehicle for unobstructed access.
The Link Swivel Ramp also incorporates safety and efficiency into its design. Link says the primary latching module can be easily removed to provide open floor space for loading and transporting over-sized cargo. Additionally, the quick-release lever enables the ramp to be unlatched when stored in the wheel well position, without requiring users to bend, lift or enter the vehicle, the company adds.