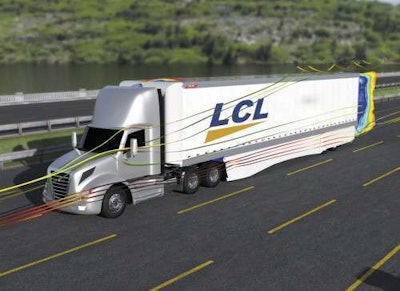 WABCO announced Tuesday it has acquired Laydon Composites Ltd. (LCL), a manufacturer of aerodynamic devices for heavy-duty trucks and trailers
Through the acquisition, WABCO says it becomes the only supplier that provides a full range of aerodynamic devices for commercial vehicles worldwide and expands its market access to North America through LCL's sales network and customer relationships in the region.
"Together, we offer commercial vehicle fleets in international markets the most comprehensive portfolio of aerodynamic products to help them improve operating efficiency and comply with stringent environmental regulations," says Nick Rens, WABCO president, trailer, aftermarket and off-highway division.
LCL pioneered and continues to advance aerodynamic technology that is standard equipment on leading brands of heavy-duty trucks in North America. The company says its collapsible air fairings improve air flow over tractor cabs, reducing fuel usage as much as 12 percent. For trailers, LCL says its patented, SmartWay Elite certified TrailerSkirt and nose fairings reduce air drag for a combined 9 percent fuel savings and lower CO2 emissions.