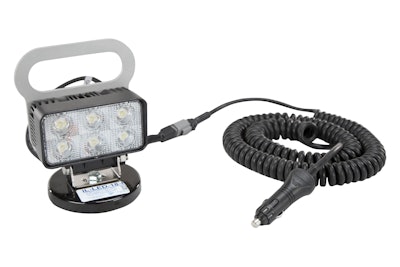 Larson Electronics has released a magnetically mounted LED flood light, one the company says will provide operators with a compact and powerful LED lighting solution.
The IL-LED-18-M magnetic mount LED light produces 1,400 lumens of bright light while drawing only 18 watts of power from a 12-volt electrical system.
The housing on the light is constructed of die cast aluminum and the lens is unbreakable polycarbonate, the company says. It is also waterproof, sealed against intrusion by dust and dirt and constructed to withstand demanding environments, conditions, and applications, Larson Electronics says.
The 18-watt LED light head is equipped with a precision machined handle and a 100-lb. grip magnetic base. The company says that each unit is equipped with a stainless steel bracket that allows the light to be moved vertically once mounted to a metallic surface.
The light is configured to operate on 12-volts DC and is equipped with an optional 16-ft. coil cord with a cigarette plug, a 16-ft. straight cord with a cigarette plug, a 21-ft. cord with battery clamps, or a 21-ft. cord with ring terminals.
"This new magnetically mounted LED work light is a compact lighting solution that would be ideal for storing in a vehicle for roadside emergencies," says Rob Bresnahan, CEO of Larson Electronics. "It is equipped with a 100-lb. grip magnetic base which allows users to attach the light to the frame, undercarriage, or under the hood."