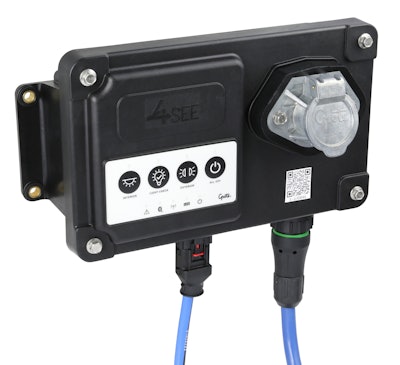 Grote Industries showcased updates to its 4SEE Smart Trailer System this week at ATA's Technology & Maintenance Council (TMC) Annual Meeting and Expo in Orlando.
Grote says 4SEE is designed to enable enhanced safety features for fleets and drivers, and Grote is pleased to further expand the 4SEE capabilities with Stoneridge, a leading designer and manufacturer of highly engineered electrical and electronic vehicle systems.
Together, Grote and Stoneridge are presented the industry's first wired rear-view trailer camera during this week's expo.
According to Grote Vice President of Sales and Marketing Kent Bode, the new video solution works through the standard J560 7-way connector, meaning no additional front-to-rear wiring is required. It enables real-time video directly from the back of the trailer to a video display in the cab. With the ability to seamlessly integrate into Stoneridge's entire suite of vision systems, including MirrorEye CMS, drivers will have a greater field of view of the side and rear of the tractor-trailer, the company says.
"The need for backup video has been recognized in the industry for years, but nobody has been able to deliver it into the cab effectively in real time – until now," says Dominic Grote, CEO and president of Grote Industries.
"This camera solution utilizes the existing tractor-trailer connector, providing fleets and drivers with the speed and reliability of a wired connection through innovation, not additional wiring," adds Jim Zizelman, president and CEO of Stoneridge. "We've leveraged Stoneridge's long history of designing and manufacturing OEM-grade vision systems and Grote's expertise in trailer technology to open the door to next-generation commercial vehicle safety solutions."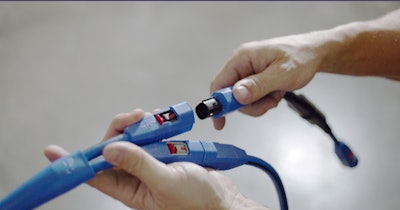 Additionally, the adaptable 4SEE technology enables Grote to link with proximity radar systems to alert drivers using bi-color marker lights on the front of the trailer and on the app in the cab, quickly informing them of dangers like obstacles and vehicles in the path of a backing truck or in blind spots when changing lanes.
Bode says these innovations will enable drivers to better understand the conditions around their trailers and dramatically improve on-road safety for all vehicles..
"Backup video and blind spot radar specific to the trailer have been areas lacking in the trucking industry, even as this technology is becoming standard in the passenger car market," Grote says. "The work Grote and our partners, like Stoneridge, are doing is giving fleet operators even more control over safety and security while also providing insights to help improve efficiency and cost savings."
[RELATED: P.S.I. debuts Digital ThermALERT, real-time visibility of wheel-end temps]
When Grote announced 4SEE in September 2022, Grote Industries says the mission was to evolve its trusted trailer electrical wiring and LED lighting systems into a digital network with technological advances focused on enhancing safety in the smart trailer industry. Grote's 4SEE Smart Trailer System connects all modules on the trailer via the 4SEE Digital Harness, enabling a robust hardwired connection to all smart components on a trailer.
All component data is then transmitted to a single connection point – the 4SEE nose box – which can then communicate directly to the driver or the 4SEE data cloud, or to a telematics provider. The full system is not only backward compatible but ready for the future of smart trailer systems, the company adds.
"At Grote Industries, we are committed to making the world safer through connected visibility," Grote says. "Since 4SEE's announcement, several major fleets have committed and completed installations of the 4SEE Smart Trailer System, and we have now completed over 1 million miles since we began testing. Through this testing, we continue to see just how paramount it is for fleet operators to have this data and technology. This critical safety system can make a difference in the trucking industry and help save lives."