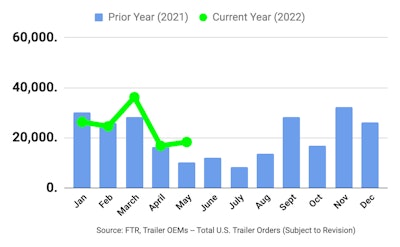 Trailer orders were nearly unchanged from April to May as the trucking industry continues to face economic uncertainties, geopolitical risks, and continued supply chain disruptions, FTR reported Tuesday.
FTR's preliminary order total for May was 18,300 units, down just 3 percent from April but 80 percent above May 2021. ACT Research also tracked May at 18,300 preliminary orders, a 7 percent month over month reduction.
Until next year's order boards open, FTR states the limited availability of build spots in the second half of the year will continue to restrict new trailer orders.
"As we get closer to Q4, OEMs will begin to gain necessary visibility into the future impacts brought by supply chain disruptions and overcome suppliers' caution to commit to 2023 pricing and lead times," says Charles Roth, FTR analyst of commercial vehicles. "This visibility will be a key factor to order boards opening. As production continues to be limited by both structural and dynamic complexities in the global and domestic supply chain, we have seen modest improvements made on the supply side. Provided this trend continues, production should remain stable.
However, Roth says FTR believes the possibility of further disruptions also could result in modest adjustments to second-half build plans. He says OEM are still trying to prove they can overcome headwinds and keep production at consistent levels, while also carefully and strategically managing their backlog.
Adds ACT Research's Jennifer McNealy, director, commercial vehicle market research and publications, "Seasonal patterns call for a sequential decline in net orders in May, and preliminary reports indicate that volumes met those expectations. Just as dry vans were responsible for April's dramatically lower bookings, they were the buttress for May's year-over-year increase."
[RELATED: 'Odds of a recession materializing']
ACT believes trailer OEMs remain reluctant to push their order board horizons into next year and are closely controlling order acceptance.
"That said, active negotiations, the calendar inching toward a 2023 opening, and new capacity scheduled to come online in the near future could explain this month's preliminary report," she says. "It's also worth mentioning that last year's May net orders represented the lowest monthly volume since the COVID-impacted months of 2020."
Adds Roth, "Despite economic and supply chain uncertainties, freight growth remains strong. This growth will continue to drive robust fleet replacement demand. While the prior six months have resulted in dealers struggling to maintain adequate inventory levels, retail demand should also contribute to OEM confidence heading into the second half of the year."