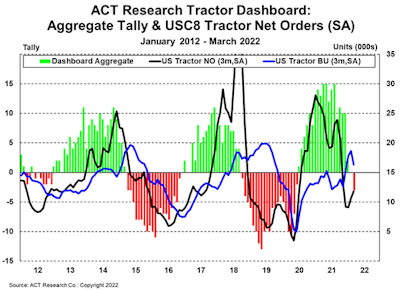 ACT Research reported in its scheduled Transportation Digest and Commercial Vehicle Dealer Digest updates this week that leading indicators for Class 8 tractor production have started to shift.
ACT now reports its Class 8 tractor dashboard has entered negative territory for the first time in more than a year, indicating commercial truck demand is beginning to subside. The company also announced that despite this slowly weakening demand, its analysts also believe it is unlikely supply-chain issues will subside enough for commercial vehicle OEMs to fully meet customer demand through 2023.
This data confirms reports from other segments of the transportation industry that show the trucking industry has cooled from the peak reached earlier this year.
[RELATED: As rates fall again, risk of freight recession 'now considerable']
"For the first time since the COVID recession of 2020, the top line of the 15-variable [ACT Research Tractor Dashboard] index has strayed into negative territory with a minus-three reading," says Kenny Vieth, ACT's president and senior analyst. "Looking at underlying row item behavior, we see adverse trends cropping up in the macro and financial indicators, freight metrics and ACT's own data contributions, Class 8 cancellations, the order-to-build ratio, and the supply-demand balance component of our For-Hire Index."
He adds it is hard to deny the tractor dashboard is "signaling a rockier road ahead for the market in the second half of this year, as the supply-demand balance flips from constrained to easing."
But Vieth also expresses optimism that any recession, if one occurs, "to be shallow and short-lived at this point."
"Carrier profitability is robust," he adds. "Our Class 8 models are indicating pent-up demand, as well as pre-buying potential in advance of CARB's costly Clean Truck mandate."
Regarding truck production specifically, Vieth points to recent comments from leaders in the semiconductor industry that point to a more cautious outlook moving forward.
"ASML, a key supplier of semiconductor production equipment, recently called out a 'significant shortage of semiconductor manufacturing capacity this year and next,'" he says. "In light of this and other industry commentary, we believe lower-for-longer chip availability is likely to restrain the industry's ability to meet otherwise-strong customer demand."
[RELATED: Class 8 truck orders fall to 15K units in April]
Vieth also briefly mentions the war in Ukraine and its ongoing impact on production.
"About half of the global supply of neon, critical for chipmaking, is concentrated in Odessa, Ukraine, where production has been down since February. The gases that were purified in Ukraine were generated by Russian steel manufacturers. A scramble to re-source is on and inventories are limited," he says.