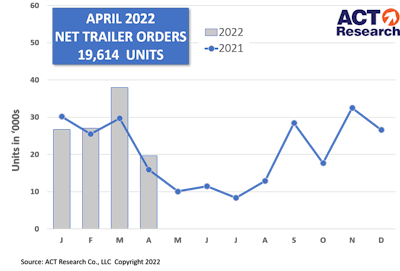 A dramatic month-over-month decline in dry van orders was responsible for an overall drop in U.S. trailer orders in April.
April net trailer orders of 19,614 units decreased more than 48 percent from the previous month, but were 23 percent higher compared to April of 2021, according to this month's issue of ACT Research's State of the Industry: U.S. Trailer Report.
"Order placement remained choppy in April, and dry vans, with a 64 percent month-over-month slide in net, were responsible for the total industry decline," says Frank Maly, ACT director, CV Transportation Analysis and Research.
"Despite April's drop, OEMs continue to negotiate with fleets and that effort is building a large group of staged/planned orders that are not yet officially posted to the backlog. Once OEMs gain sufficient confidence in their supply chain and labor availability to open 2023 production slots, expect a surge of orders to be 'officially' accepted," Maly says.
Typically, the industry has not been willing to push its commitments past 12 months and entering into a new calendar year this would not normally be under consideration.
"However, recent years, including the pandemic-battered 2020-21, have been anything but normal, leading us to expect some OEMs to begin viewing deeper orderboards, with appropriate cost/price protections, which would result in both a competitive advantage and improved fleet relations," he says.
Regarding backlog, Maly says, "The orderboard slid sequentially in April, and we expect the backlog to contract as we move through late spring and early summer, but the yet-to-be-determined date for opening the 2023 orderboards will reverse the backlog contraction and likely quickly extend the backlog well into next year."