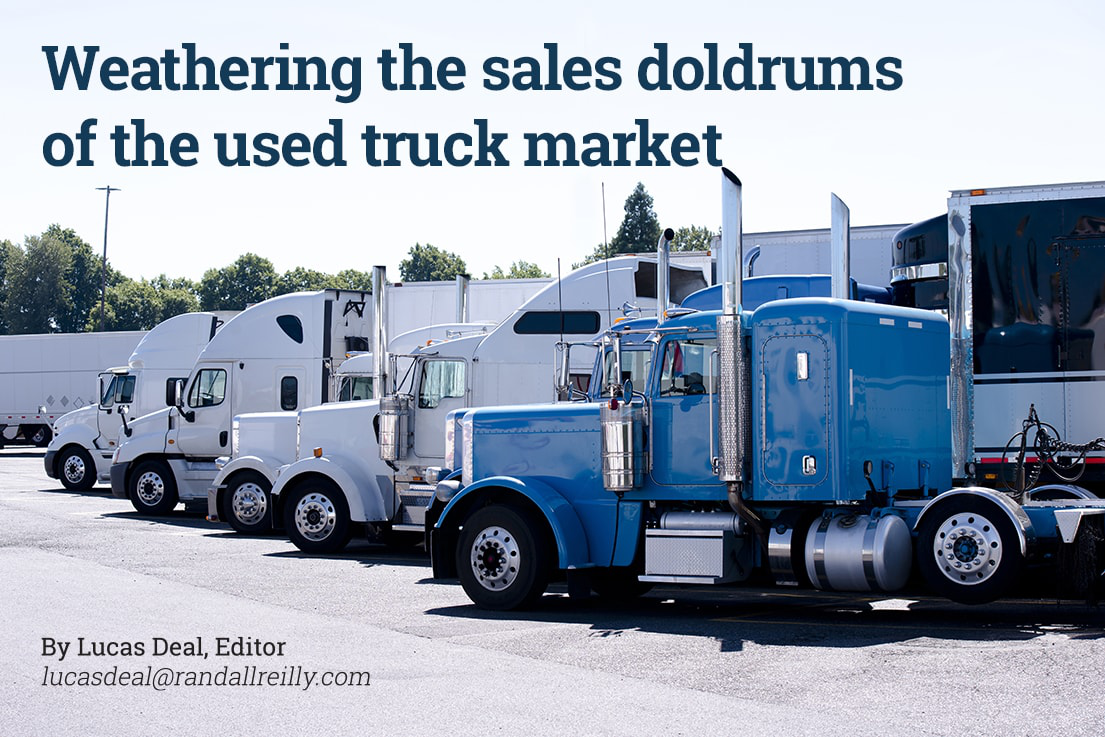 After a surprisingly steady spring and summer, the consequences of 2018's record new truck orders finally toppled the used truck market last fall.
J.D. Power reported in December retail prices for late-model trucks fell by 6.5 percent year over year in October and November, with dealers recording their lowest sales month by volume in 11 years at 3.4 sales per rooftop in November.
The numbers were even worse in the auction market, where prices for 4- to 6-year-old trucks in J.D. Power's benchmark model plummeted by 30.3 percent year over year in October and November. The steep downswing pushed overall sales prices for the first 11 months of the year down 12.3 percent when compared to the same period in 2018.
The downswing continued in December, J.D. Power reported late last week, and with volumes continuing to rise in both channels and demand stagnant or falling, it is unlikely sale prices in the used truck market will rebound any time soon. Which means for dealers operating in the space, never has it been more important to have a rational and comprehensive used truck strategy.
Now is not the time for dealers to take on used inventory unless they are fully confident in their plan to move it.
"With the way the market is going now you would hope we've reached [the trough], but right now I kind of doubt it," Mike McMahon, director of strategic accounts, Ritchie Bros., said late last month. "We are hopeful the market will level out in the first half of the year and in the second half we'll start seeing better pricing — but no, I don't think we've hit the bottom yet."
J.D. Power's Chris Visser agrees. As the company's senior analyst and product manager, Commercial Vehicles, Visser is responsible for developing the company's monthly Commercial Truck Guidelines used truck reports. In the Forecast section of December's issue, J.D. Power wrote it "expects current conditions to be in place until late in the first quarter. At that point, we'll have some sense of whether pricing has reached a bottom."
Fleet trucks have been hardest hit by the recent downturn due to their oversaturation in the market. Commercial fleets began taking order of their 2018 orders in the second quarter last year and in the months since the number of available 3- to 6-year-old trucks with 400,000 to 600,000 miles has ballooned.
Visser notes while premium brands have "generally maintained their premium over higher volume brands," no nameplate has been impervious to the falling prices. He also notes among the fleet equipment cohort, "the market has redefined 'low-mileage' to under 300,000 miles. Value drops off pretty steeply over that."
KEA Advisors added in its November used truck market conditions report that the "high flow of trade-ins associated with 2019 Class 8 retail deliveries of new linehaul tractors has driven used truck inventory to record levels. These levels were essentially unchanged in November."
Those buying and selling in the used truck space echo this analysis.
Midwest Peterbilt Group Director of Sales Eric Madsen says the price for a fleet truck is markedly lower today than the same point last year.
"Supply has increased enough that the price is being reduced to move inventory. The level is such that a customer can almost order a used truck," he says.
McMahon adds the fleet truck segment also suffers the most from compressed demand brought on by weakening freight volumes and negative shifts in the spot market that occurred in the latter half of 2019. After rushing to add as many power units as possible in 2018, the fleet market contracted down the stretch in 2019 as some carriers shed excessive equipment and others closed due to financial distress.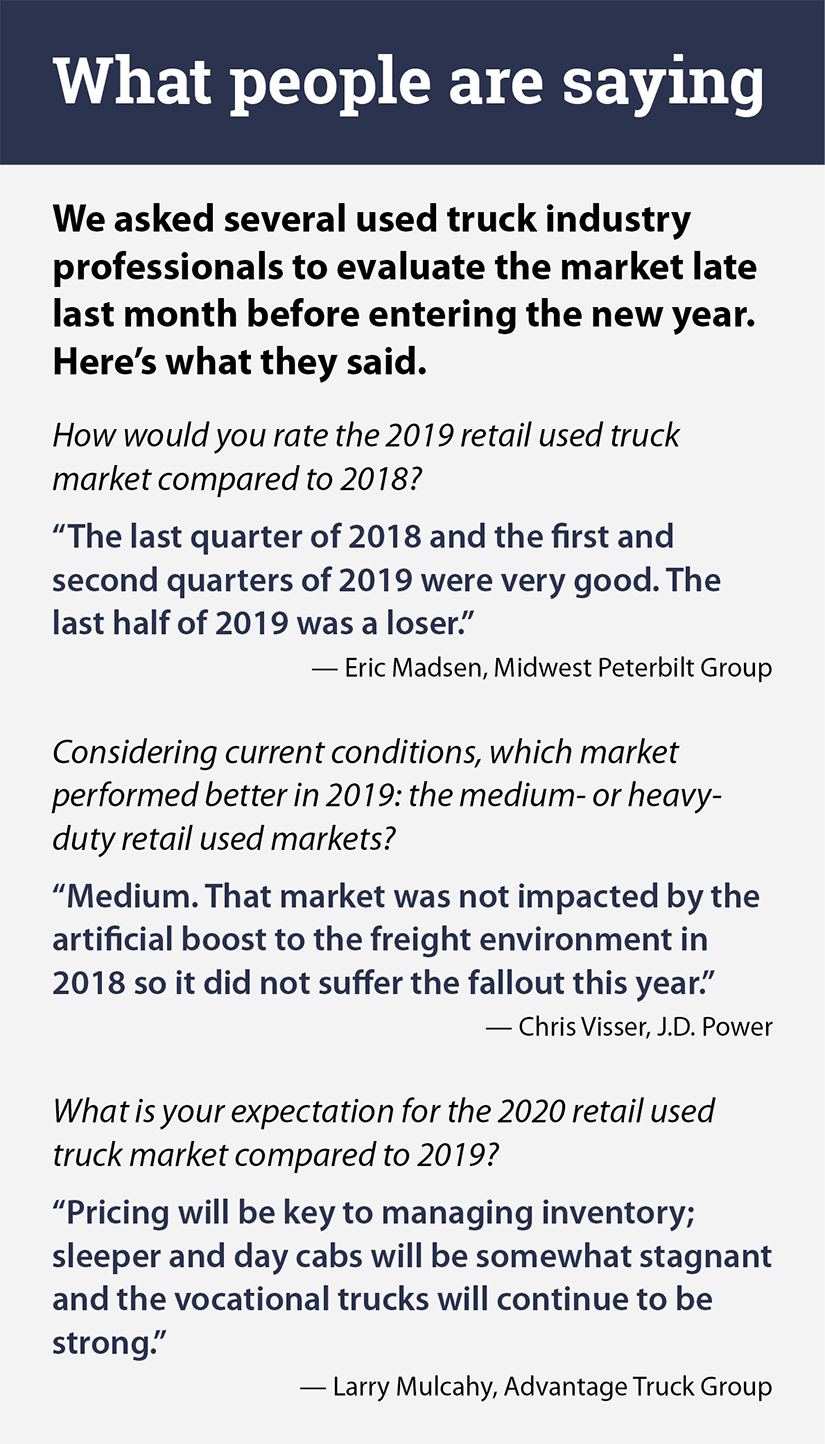 The influx of these trucks has forced many used truck businesses to get creative in their sales and marketing.
In November, SelecTrucks and Daimler Trucks Financial introduced a purchase program offering used truck customers "the ability to purchase a late-model Cascadia truck for as little as $1,250 per month, with a 60-day deferral for the first payment." Two weeks later Schneider announced discounts of 18 to 20 percent on all warrantied used trucks available across its 23 retail centers.
McMahon says Ritchie Bros has found success touting its variety of sales services to the dealer channel and its capabilities to serve "as an extension of their sales force. The company offers more than just its 29 auction sites across the U.S. and Canada.
"We have a pretty nice offering of solutions for our dealer customers," he says.
But those in the know also note the best way to avoid being snowed under a pile of used trucks is careful trade evaluation. Dealers can't be harmed by equipment they never acquire.
"When supply is high, we keep lower amounts of inventory of that product and we tend to manage inventory by staying on top of industry trends and working closely with our customers and our dealer network," says Larry Mulcahy, sales executive, ATG Truck Sales.
Madsen says his dealership tries to do the same but acknowledges as a new truck dealer sometimes Midwest Peterbilt Group is required to take trades to move new trucks. In those instances, he says the company is careful to ensure it doesn't take on any units that require substantial service or repairs.
With supply and demand so inverted, Madsen says "if something major is wrong with a unit it becomes impractical to recondition it."
On that note, Madsen's dealership isn't alone. Visser says an oversupply of trades is what happens when fleets are incentivized to buy new trucks through tax changes, which occurred in the latter half of the last decade. He says that situation was then exacerbated by the material inventory buildup in advance of tariffs on Chinese goods and materials.
"We're basically paying for these external factors now," Visser says. "As always, any dealer, fleet or finance company that went all-in on the upside without planning for the inevitable downside is now in a bad position."
Experts don't foresee swift recovery either. Visser anticipates the retail market will see lower prices throughout the year as depreciation closes ground against the auction and wholesale channels, with supply and demand hopefully trending back in the right direction in the third quarter. He's slightly more bullish for the auction and wholesale space but still expects a weaker year overall.
"I suspect any stabilization will come in the second quarter, then potentially firm slightly in the summer. We won't see a major improvement through the end of 2020 though," Visser says.
It's an outlook that speaks to the boom or bust nature of the used equipment space.
Adds Mulcahy, "It's a very volatile market with the influx of inventory. Yet with great risk comes great reward."