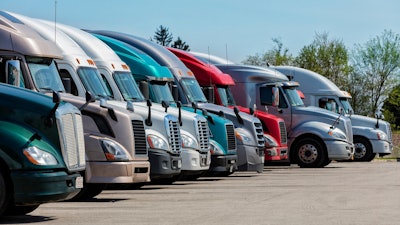 The used market has entered a transitionary period, says ACT Vice President Steve Tam in the company's State of the Industry: U.S. Classes 3-8 Used Trucks report released this week.
ACT Research reports preliminary used Class 8 retail volumes (same dealer sales) increased 43 percent month over month in August though price fell once again, dropping 4 percent from August. Miles were flat and age contracted by 3 percent month over month.
[RELATED: Rail, labor unions reach tentative deal to avoid strike]
"The used truck market is a market in transition, very similar to what we are seeing not only in the broader economy, but also in the new truck market," says Tam. "Different segments are performing in varying manners and that is manifesting in our world, too. Digging into the details, flat miles and younger trucks would normally suggest improved pricing, but as freight continues to soften and spot rates fall, not as many buyers are looking for trucks. Even though stocks are doing the used truck 'no step' dance, the imbalance is sending values lower."
Volumes were down 15 percent year over year though price was 30 percent higher — further showcasing the unusual position of the used market at the moment.
Tam elaborates on the 'no step' dance as a "combination of the Texas two-step and the expression two steps forward and one step back, the phrase is meant to convey the complete and utter lack of progress the industry has observed in bolstering its anemic inventory."
He adds, "Though it remains one of the most elusive metrics in the industry, what data anecdotes we are able to garner suggests there are no more used trucks in inventory today than there were six months ago. On one hand, that helps protect sellers from holding over-valued units. But ultimately, it has also limited income potential and denied buyers' demand."