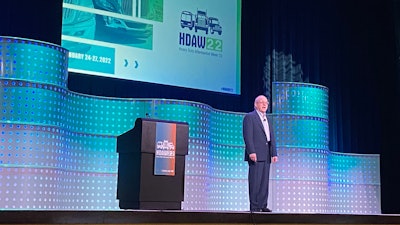 While hiring in the independent aftermarket has never been easy, it's probably never been this hard either.
The great resignation created by the pandemic and the continuing exiting of the Baby Boomer generation from the workforce to retirement has decimated numerous industries. New generations entering the workforce bring a work ethic better than their reputations, but they also bring expectations of employers that are fundamentally different than how most businesses have run for decades. The result is a national workforce more willing than ever to look to job hunt and hob and a strong belief that all too often the grass actually is greener on the other side.
During an educational session Tuesday at Heavy Duty Aftermarket Week in Grapevine, Texas, Society for Human Resource Management (SHRM) Vice President Tony Lee shared 13 useful tactics his organization has developed and advises business owners to consider or implement to strengthen their hiring practices.
[RELATED: Midwest Wheel wins 2021 TPS Distributor of the Year]
Lee admits his tips aren't foolproof — even the nation's best employers are struggling to fill roles these days — but says most of them can be easily applied into existing recruitment, hiring and retention practices at little to no expense to give companies their best chance to pull in and keep great new talent.
Focus on Fundamentals: Lee says job applications have become too cumbersome. Prospective employers are not interested in taking 30 minutes to fill out an application — particularly one that may automatically disqualify them from a potential role due to career and educational history requirements. Lee advises a basic application where prospects are only expected to provide their name, contact information and the roles they would be interested in. Anything else you want to know you can acquire later.
Show who you are: Lee says it is imperative your business has a page within its website or a social media page that tells your story and clarifies your brand. He says sometimes you can even get existing employees to create them by asking them what they like about their jobs. "You have to be able to tell your story so others don't tell it for you," he says.
Maximize employee referrals: Why would you spend five figures on an outside recruiter to fill a role when internal referrals are far and away the most successful recruiting tool, according to SHRM research. Lee says employers should offer substantial employee referral bonuses and actively promote those programs to associates. Employees that like where they work are generally willing to share that sentiment with job-hunting friends and family.
Avoid high-volume hiring hiccups: Lee isn't a big fan of signing bonuses or short-term programs to flood an applicant pool. He says signing bonuses often bring in candidates who will take the bonus and bail and can offend long-time employees who never received additional compensation when they were hired. He also says they are tough to cancel once they have been established.
Embrace predictive analytics: This may be impossible for small firms, but Lee says larger companies are now hiring data analysts to identify hiring trends and capitalize on successful practices. With smaller companies, Lee says HR managers can still tweak applications and track if simpler forms or more publicized job openings draw more interest.
Accept 'work from anywhere' mindset: Remote work is here to stay, Lee says. Even if there are only a few positions in an aftermarket operation where remote work is feasible, distributors should be willing to consider that new normal. Lee says accepting remote workers dramatically increases a recruitment pool and can create loyalty among workers who appreciate the flexibility of working from home.
Millennial-ize your recruitment: Millennials are already the largest generation in the workforce and within three years they will represent nearly 75 percent of all workers. Lee says business owners who aren't planning to soon exit their operation need to be conscious about this workforce shift and create new workplace culture that attracts the millennial workers.
Prepare for Gen Z: While millennials value flexibility and freedom from their employers and appreciate recognition for a job well done, their younger counterparts in Gen Z want to be paid. This generation remembers the hardship of the Great Recession in their formative years. They value financial security over fellowship and emotional support of the Millennials.
Be transparent: Lee says most businesses have a profile on Glassdoor, even if they don't know it. He says that's okay and Glassdoor actually providers employers a great resource. Lee advises companies engage on Glassdoor if/when they encounter a negative review, and request current associates join the platform to create positive reviews. He says positive, authentic posts on the site entice prospective employees and engagement with negative messages show maturity. Refocus diversity hiring: On this note, Lee says one good way to promote corporate diversity is to motivate managers to diversify their teams. He says managers who are driven to recruit from large talent pools are likely to find a wider variety of qualified candidates with different viewpoints and skill sets.
Start recruiting early: This can be done through common aftermarket tactics such as developing relationships with high schools, tech schools or the military. Lee says community colleges specifically are desperate for education and assistance from business leaders to help place their students. "Community colleges and high schools are waiting for you to come do that," he says.
Start retention early: Finally, Lee says it's never too soon to start working to retain a new hire. That includes before they even show up on their first day. He says buddy programs — where existing employees engage with new hires before they arrive to a job — are proving to be a useful way to avoid "ghosting" where candidates accept a role but never show up to start. He also says formal welcome programs when someone joins a business can quickly help develop loyalty.