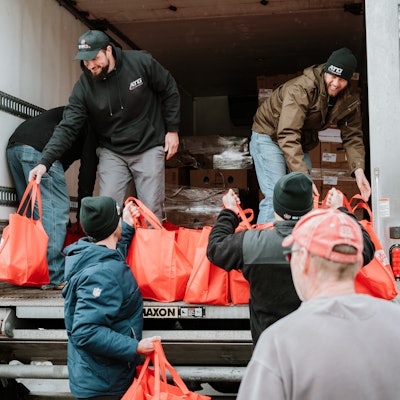 Advantage Truck Group (ATG) recently celebrated 10-years of giving back to its communities through Haulin' 4 Hunger, increasing donations and strengthening its commitment to help provide meals to people facing hunger in communities near ATG dealerships throughout New England.
On Dec. 15, Haulin' 4 Hunger delivered 4,000 fresh holiday meals to eight food pantry organizations in communities near ATG-Shrewsbury in Central Massachusetts, and distribute thousands of nonperishable meals throughout December as it makes its fourth-quarter donations to six hunger-relief organizations near other ATG locations throughout Massachusetts, New Hampshire and Vermont.
Over the past decade, Haulin' 4 Hunger has donated over 30,000 meals across New England.
"We are grateful for the continued support that our employees, customers and business partners have for this program," says Kevin Holmes, president and CEO, ATG. "While serving our customers is our most important mission, serving our communities truly defines who we are. As we mark 10 years of Haulin' 4 Hunger, ATG's commitment to fighting hunger and reducing food insecurity in our communities remains more important than ever."
The holidays are especially difficult for those struggling to put food on their table. While every donation makes a difference to food pantry organizations and the people they serve, it's the nutritious yet expensive fresh foods that are among the most requested at local pantries and often in short supply.
ATG and its Haulin' 4 Hunger team of employees and business partners led two caravans of trucks and cars from its Shrewsbury, Mass., headquarters to hand-deliver over 4,000 fresh holiday meals of turkey – with all the trimmings – to organizations offering food pantries and other services throughout the city of Worcester and nearby communities in Central Massachusetts. Deliveries of fresh meals will be made to eight organizations:
Abby's House
Boys & Girls Club of Worcester
Friendly House
Jeremiah's Inn and Food Pantry
Marlborough Community Cupboard
South Worcester Neighborhood Center
St. Anne's Human Services
Veterans, Inc.
At other ATG dealerships in Massachusetts, New Hampshire and Vermont, employees selected food pantry organizations in their local communities to receive quarterly donations of non-perishable food to help meet ongoing need. Deliveries of this quarter's Haulin' 4 Hunger donation of nonperishable meals of Spam, rice and green beans will be made from Dec. 8-22 to six food pantry organizations near ATG locations:
Our Community Table – near ATG Westfield
Our Place Drop-In Center – near ATG Westminster
LISTEN Food Pantry – near ATG Lebanon
Rockingham Community Action – near ATG Seabrook
Raynham Food Basket – near ATG Raynham
New Hampshire Food Bank – near ATG Manchester
"Each of the organizations we support through Haulin' 4 Hunger is working to ensure those facing hardships have enough food to eat during the holidays and every day, and we are honored to help them in this critical effort," says Holmes.