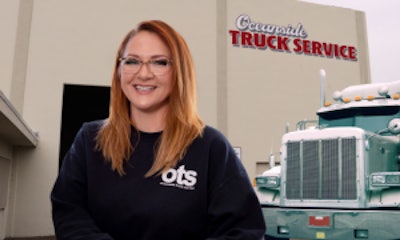 Mitchell 1
Mitchell 1 has published a blog highlighting the career ascension of Emily Bradsher, owner of Oceanside Truck Service and Western Diesel in San Diego, Calif., as a means of recognizing women for their vital importance to a successful trucking industry.
On the heels of Women in Trucking's (WIT) 19th annual Accelerate Conference held earlier this month in Dallas, Mitchell 1 published Bradsher's story to showcase another woman who is making an impact in commercial transportation.
The company writes, "as a female in a male-dominated industry, Emily has successfully navigated the tough truck repair industry through her customer-centric approach, combined with Mitchell 1's TruckSeries repair software, to deliver top-quality service, surpassing competitors."
[RELATED: Strategies for dealing with technician retention]
Bradsher entered transportation through a technical career school and was encouraged to commit to the industry after positive reinforcement from an instructor. She found her way to Oceanside in 2008 and after rising through the ranks became the company's leader when the original owner passed. Today her company supports trucks from Class 2 to Class 8 and has grown its customer base with private, municipality and government fleets.
"We know our customers, and I think that fosters a profound respect among our technicians, who are driven by a collective mission: to safeguard the well-being of our valued customers. With this shared unwavering commitment, our team ensures that those who place their trust in us receive a level of care and excellence that sets us apart from the rest," Bradsher says.
To learn more about Bradsher, her rise in the industry and how Mitchell 1 has helped her company to thrive, please go to the Mitchell 1 website.