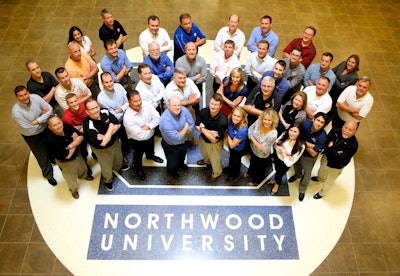 Leadership 2.0, the University of the Aftermarket's automotive aftermarket Leadership Development Program, concluded on Friday, April 11, 2014 with a graduation ceremony for its 38 participants.
Leadership 2.0 is an intense and intellectually challenging leadership-development program specific to the vehicle aftermarket. Participants in this year's program represented a wide array of aftermarket companies at all levels of the industry, the University says.
The program began last August with participants gathering on Northwood University's campus in Midland, Mich. Between sessions I and II, participants worked on team projects that addressed several important industry issues. Participants received 7.0 credits toward completion of their Automotive Aftermarket Professional (AAP) or Master Automotive Aftermarket Professional (MAAP) designations, Northwood says.
The next Leadership 2.0 program will begin August 24, 2014, at the Sloan Family Building for Aftermarket Studies on Northwood University's campus in Midland, Mich. The class will reconvene in the spring 2015 on Northwood's campus in West Palm Beach, Fla.
Northwood says details on the next class are being finalized and will be announced at the upcoming Global Automotive Aftermarket Symposium on May 20-21, 2014 in Chicago. Interested aftermarket professionals can visit https://www.northwood.edu/aftermarket/ and click "Course Calendar" to sign up for the next Leadership 2.0 class.
This year's graduating class of Leadership 2.0 participants included:
Mike Allen, Federated Auto Parts
Barry Barker, Dayco Products LLC
Lisa Boyle, Federal-Mogul Corporation
Nicole Brennan, Continental Corporation
Ben Butler, Parts Warehouse, Inc.
Todd Campau, IHS
Sean Connolly, Tri-States Auto Warehouse, Inc.
Joe Davis, United Automotive Supply
Kirt Denman, Federal-Mogul Corporation
Brian Evanoka, Uni-Select USA
Joe Hanson, Dorman Products
Ted Hughes, Jr., MAHLE Aftermarket, Inc.
Ed Keshen, Tenneco
David LeMeilleur, LeMeilleur's RV/Truck/Equipment
Judy Love, Schaeffler Group USA, Inc.
Jim Lucas, Dorman Products
Bill Maggs, National Pronto Association
Ben Marcell, ZF Services
Hal Mardis, Ridgeland Service Center
Bob Myers, Gates Corporation
James O'Dell, Motown Automotive Distributing Co.
Dani Orlando, Trico Products
Bailey Overman, AASA
Rob Pietrowsky, Federal-Mogul Corporation
Kevin Reamer, Tenneco, Inc.
David Riggs, Dayco Products LLC
Tyler Rossdeutcher, Gold Eagle Company
Tom Ruddy, Sanel Auto Parts
Michael Rukov, One Stop Parts Source
Jon Sipe, Interstate Muffler
Jim Snipes, Standard Motor Products
Danielle Sonnefeld, N.A. Williams Company
Rick Spugnardi, Parts Warehouse, Inc.
Mike Staruch, NGK Spark Plugs, Inc.
Al Sutherland, Jr., Al's Certified Auto Repair
Ray Wells, Wells Automotive
Karl Westrick, WIX Filtration
Terry Wynter, Terry Wynter Auto Service