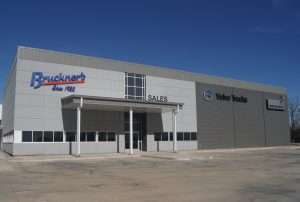 Bruckner Truck Sales, Inc., has announced the opening of its new dealership in Oklahoma City.
The new Mack and Volvo-branded facility is situated on 15 acres at 10120 West Reno Avenue. The facility faces south on I-40 with site access from Reno Ave., west of the I-40 and Morgan Road interchange (exit 140) allowing for easier truck traffic access.
Bruckner's says the 58,000 sq. ft. state-of-the-art dealership offers greater service bay and parts warehouse capacity. In this one location, Bruckner's will continue to offer new and used, truck and trailer sales along with truck rental and leasing. This new facility replaces Bruckner's old location at 3824 West Reno Avenue, the company says.
"We are excited for our customers and employees," says Bob Acker, general manager for Bruckner Truck Sales in Oklahoma City. "A larger state-of-the-art facility combined with a convenient location and easy access will make things better for us and our customers."
Chris Bruckner, executive vice president adds, "We were fortunate to find a good location to build on I-40. Expanding our network of stores, building newer facilities; and investing in the most up-to-date technology continues to allow Bruckner's to provide best-in-class customer service."
The company says the new dealership will be open from 7:30 a.m. until midnight Monday through Friday and 7:30 a.m. until 4 p.m. Saturday with 24/7/365 emergency call out service. Bruckner's will keep their original phone numbers: 405.942.4940 and 800.725.6225 (MACK), the company says.