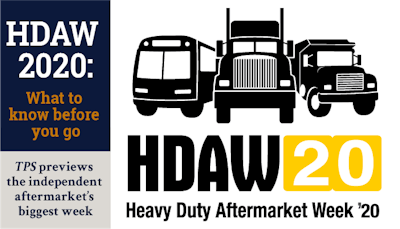 After several years of cramped quarters and frustrated exhibitors, Heavy Duty Aftermarket Week's (HDAW) Product Expo is leveling up.
This year's expo at the Gaylord Texan in Grapevine, Texas, will feature nearly double the amount of floor space that previously held the aftermarket's largest trade show. HDAW organizers say the industry is responding to its new venue with an excitement never seen before.
Heavy Duty Manufacturers Association (HDMA) President and COO Tim Kraus says the 2020 HDAW Product Expo won't actually be twice as large as last year — but it's probably going to look like it.
"The last few years people have been begging us for space and this year we're finally going to be able to grant some wishes," he says.
Entering this week's final event preparations, HDAW organizers say more than 330 aftermarket suppliers have registered to exhibit at next week's show — an increase of nearly 70 suppliers from 2019 and far and away an event record. Additionally, after several years requiring a hard cap on exhibitor booth size, HDAW 2020 will increase the square footage of premium and moderately sized booths to enable suppliers to better display their products and services on the show floor.
Kraus attributes the larger venue and expanded booth offerings for the breakneck pace in which suppliers registered for the upcoming event.
"We sold out the exhibit hall head-spinningly fast," he says. "We had a wait list almost immediately."
HDMA and the event's other co-owners have spent months restructuring the expo layout to maximize exhibitor space and in December Kraus was confident most, if not all, interested parties would be accommodated before the Product Expo officially opens at 12:30 p.m. CT next Tuesday.
For Kraus, the industry's unbridled enthusiasm about the new venue has been a welcome relief. HDAW grew during its decade in Las Vegas and its time at The Mirage helped to shape the week into the convention many in the industry today know and love.
Kraus says HDMA and HDAW's other owners were aware of that when they began searching for a new venue. He says while it was clear The Mirage could no longer hold HDAW, it was important the event's baton was passed to another venue that would contain the growing event without losing any of the features that has made it so well-received. Kraus says HDAW organizers were thrilled when they found the Gaylord Texan, though committing to a new location was still intimidating.
"We signed a multi-year contract with the [new] property two or three years ago and when we signed everyone was talking about a recession happening. We were worried," says Kraus. "But when we announced the change in January [2019] it was well received and to say we have been pleasantly surprised by registration numbers would be an understatement."
He says HDAW 2020's Product Expo will include more than 80 companies that did not participate at last year's event, including more than a dozen prior exhibitors that are returning to the event after at least a one-year hiatus. Additionally, 26 exhibitors have expanded their booth sizes, with five aftermarket suppliers (WABCO, Bendix CVS, Meritor, Dana and Automann) upgrading to 50 ft.-by-40 ft. booths that have never before been offered at HDAW.
Yet even with such a dramatic year-over-year expansion, Kraus says HDAW still has a ways to go to fill the Gaylord Texan like it did The Mirage. He says nearly 2,000 attendees are expected to be onsite for next week's festivities — another aftermarket record, but well short of the venue's 2,500-person convention capacity.
"I'm sure next year we'll see it evolve yet again," he says.
The HDAW Product Expo will be open from 12:30 p.m. to 6 p.m. CT Tuesday, Jan. 28, and 12:30 p.m. to 5:30 p.m. CT, Wednesday, Jan. 29. An interactive map of the Product Expo may be found HERE.
This is the last of eight Trucks, Parts, Service articles previewing Heavy Duty Aftermarket Week (HDAW) 2020. Prior HDAW 2020 preview articles can be found below.
HDAW 2020 Preview: Despite new home, co-chairs say same great event planned for January
HDAW 2020 Preview: The industry's biggest week expands; now features trio of complementary events
HDAW 2020 Preview: 'Shark Tank' star to talk branding, entrepreneurial skills during keynote address
HDAW 2020 Preview: Decisiv to address trucking's growing service ecosystem
HDAW 2020 Preview: Workshop to help distributors find the right insights from their data
HDAW 2020 Preview: How the aftermarket can accept and adapt to new product technology
HDAW 2020 Preview: Event organizers eager to showcase improved one-on-one meeting program