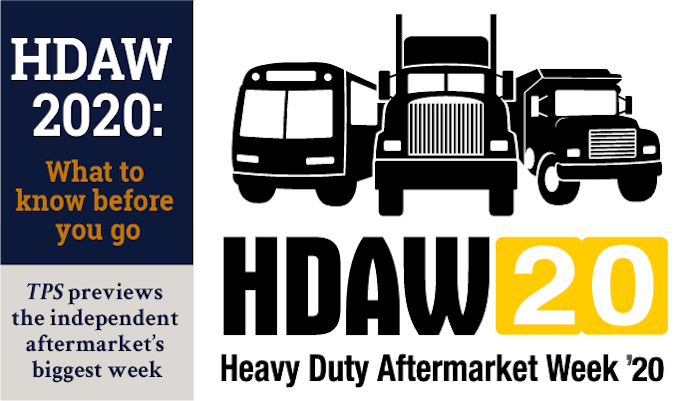 Event organizers are using a venue change to spruce up the one-on-one meeting experience at Heavy Duty Aftermarket Week (HDAW) this year.
After making the best of the nice but cramped atmosphere at The Mirage in Las Vegas, Heavy Duty Manufacturers Association (HDMA) President and COO Tim Kraus believes the independent aftermarket should be excited about the venue and layout changes HDAW's co-owners are bringing to this month's event.
With nearly 40 meeting rooms reserved just an escalator ride from the HDAW expo hall and another 87 strategically positioned on the show floor, Kraus says HDAW 2020 has nearly eliminated the logistics issues that have plagued the conference's meeting schedule in the past. This year's one-on-one program has been streamlined and optimized for suppliers and distributors alike, he says.
Considering the record number of meetings on the docket, he says this year's improvements are coming not a moment too soon.
"We've been working on a lot of these changes since February and I think when [attendees] arrive, it's going to almost feel like an all-new event to them," Kraus says. "A lot of what we're doing will be similar to what we've done in the past, but this year we don't have to build around the limitations of the venue."
Kraus says that will be most evident during the one-on-one meetings scheduled across HDAW's final two days. In past years these meetings were held in guest room suites throughout the hotel. Kraus says while the suites themselves worked for the meetings, their distance from the main conference areas and inaccessibility from each other — everyone remembers the stairway/elevator challenges — were regularly cited as problematic by attendees in post-event surveys.
"The nice part now is once you leave your hotel room you don't have to go back and forth. Everything we're doing will be held in the convention center," he says. "We've cut down on a lot of that back-and-forth travel time."
Kraus adds that was a priority for HDAW's ownership and joint operating committee when it began evaluating a potential venue change last decade. By committing to the Gaylord Texan, Kraus says HDAW has found a venue that will not only address prior event challenges but also has the footprint to easily house the constantly expanding event.
He says that's one reason one-on-one meetings are being held on the show floor this year. The space was available.
Yet the shift in venue isn't the only change to the HDAW supplier and distributor meeting program. This year's event also will be the first using a new, more robust meeting scheduling program. Like the meeting rooms, Kraus says the change was necessary, as HDAW's prior tool wasn't built to handle the complexity the event's one-on-one program has become. Organizers are optimistic the tool will be well-received on site; early reviews are positive.
HDAW organizers also are eager to introduce an expanded distributor sales training program on the expo floor. First introduced in 2018, Kraus says the Wednesday morning training session will enable up to 250 distributor sales associates to receive hands-on product training from their supplier partners via 20-minute educational sessions on the show floor.
"The training program is great because if a distributor doesn't have a one-on-one meeting or brings several employees to HDAW they can use that morning time to sit in customer training," Kraus says. "They can still get something out of that time with their suppliers."
HDAW's one-on-one meetings will be held from 7 a.m. to 12:15 p.m. CT Wednesday, Jan. 29, and 7 a.m. to 3:50 p.m. CT on Thursday, Jan. 30. The distributor product sales training will be held from 9 a.m. to 12 p.m. CT Wednesday, Jan. 29.
This is the seventh of eight Trucks, Parts, Service articles previewing Heavy Duty Aftermarket Week (HDAW) 2020. The final article in the series will address changes to HDAW's product expo and will be posted next Tuesday. Prior HDAW 2020 preview articles can be found below.
HDAW 2020 Preview: Despite new home, co-chairs say same great event planned for January
HDAW 2020 Preview: The industry's biggest week expands; now features trio of complementary events
HDAW 2020 Preview: 'Shark Tank' star to talk branding, entrepreneurial skills during keynote address
HDAW 2020 Preview: Decisiv to address trucking's growing service ecosystem
HDAW 2020 Preview: Workshop to help distributors find the right insights from their data
HDAW 2020 Preview: How the aftermarket can accept and adapt to new product technology