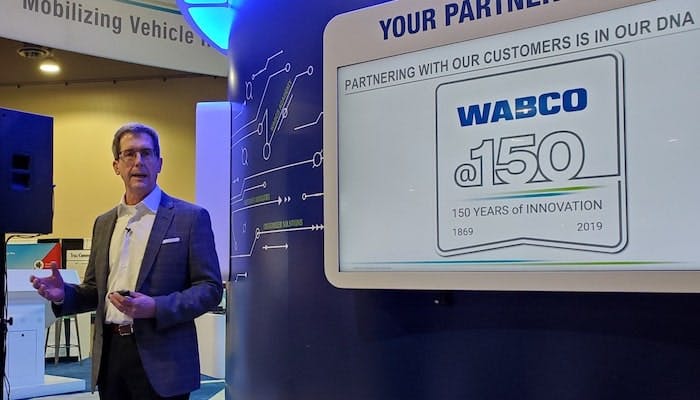 WABCO has announced its expanded product and service platform designed to help North American commercial vehicle fleets enhance safety and improve the availability, or uptime, of equipment.
"As we go into this next journey, we really have brought some substantive innovation and partnerships into the heavy truck industry," Jon Morrison, WABCO Americas president, said during a press conference Wednesday at Heavy Duty Aftermarket Week (HDAW) in Grapevine, Texas.
Launching in March 2020, the new regional platform will enable customers to access all WABCO replacement components and retrofit kits, including braking and stability control systems, air disc brakes, advanced driver assistance systems (ADAS), air processing and other WABCO-branded products previously distributed by Meritor through an expanded network of authorized WABCO distributors and certified service partners.
To support this business expansion, WABCO has upgraded its distribution infrastructure and logistics capabilities within its $3 million aftermarket distribution center located in Hebron, Ky.  The company also has formed a dedicated customer experience team comprised of experts in field service, call center support and technical training who will work with a growing network of WABCO service providers specializing in the service, repair and replacement of WABCO products for trucks, trailers, buses, off-road equipment and other vehicles, the company says.
"WABCO is looking to reduce downtime and the way we're able to do that is by part availability, utilizing our distribution partners, but then also creating a service partner network with certified technicians to drive decision making down into the field, closer to the diagnostic requirement," said Abe Aon, WABCO North America aftersales, service and support leader.
"Our team has a passion to support the customer and that's the aftermarket team, the engineering team, the project management team, the quality team, the customer care center — all of these are the pieces to supporting that customer," Aon said.
To help North American fleets and service providers keep vehicles operating safely and at peak efficiency, WABCO's customer experience will also include:
A new customer portal featuring online ordering for OES and distributor customers, as well as product information and technical support for the larger customer base; an expanded regionally-based, multilingual field service team providing both live and virtual technical support; and a regional version of WABCO's comprehensive training platform, WABCO Academy, which is launching in the second quarter of 2020. This platform will enable access to detailed technical instruction via self-directed online modules and on-site, hands-on clinics, as well as certification programs across the spectrum of OEM and aftermarket solutions for commercial vehicle applications.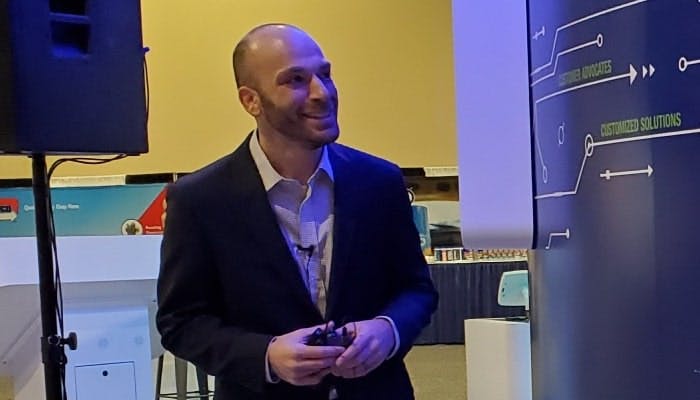 Regarding the field service team, customer care is "focusing on the customer [and] keeping vehicles on the road by giving products, information and tools to be able to service them," Aon said.
"Our goal is to share information, to bring that ability to diagnose problems down to the technicians. We want them to be trained. We want them to be our partners and we want them to be certified by WABCO," he said.
WABCO also announced the availability of several aftermarket product and service solutions for commercial vehicles, including an expanded range of ADAS retrofit kits.
OnSide ADAS retrofit kits for major OEM vehicle applications, which enable fleets to enhance the safety of existing equipment by adding blind spot detection technology. The radar-based system supports drivers in all visibility conditions by providing a warning when it detects a moving vehicle within a 160-degree arc in the adjacent passenger-side lane. WABCO also offers OnGuardACTIVE and OnLane ADAS retrofit kits for an array of popular vehicle applications, the company said.
Regarding installation time, Aon said, "It's application based on how you're able to install it. With OnSide it could take as little as two hours but could take longer depending on the vehicle. We also leverage our certified installers to be able to install them and we're growing our certified installer network."
From and ROI standpoint, Morrison said, "Generally speaking, we try to keep an ROI period less than 18 months," Morrison said. "It depends on the use case."
WABCO said its subscription-based TOOLBOX PLUS diagnostic software has been enhanced to help users save time in diagnosing WABCO systems. The new version, TOOLBOX PLUS, supports the latest WABCO product releases, including intelligent anti-lock braking system (iABS) for trailers, modular braking system platform (mBSP) for trucks and TailGUARD reverse collision avoidance system for trucks and trailers. A timesaving new "roll call" feature automatically identifies installed WABCO systems upon connection to the vehicle. In addition, warranty forms are pre-populated with VIN, fault code(s) and other information to help speed the claims process.
As with the previous version, TOOLBOX PLUS offers aftermarket ECU programming capability to help reduce downtime and unit inventory requirements. The new software is being offered through one-, two- and three-year subscriptions.
With TOOLBOX PLUS being subscription based "you get constant updates so you'll have the latest information which is a key part of being able to service our products. We don't want technicians watching blink codes," Aon said, adding what might take a technician eight hours to diagnose an issue could take 15 minutes with TOOLBOX PLUS.
The WABCO Reman Solutions product offering has been expanded to include premium remanufactured air compressors guaranteed to provide OE equivalent performance. Each unit is fully disassembled, inspected, cleaned, honed, updated with new components, reassembled and tested to the latest OE specifications.
"We have a good demand from remanufactured compressors. WABCO remanufacturers to the latest specifications so if there has been an update to a product, you get the latest product and it's a really key feature with our reman products. It is a lower-cost option but it still maintains the high quality and durability of our OEM specification," Aon said.
In addition, WABCO now offers three ranges each of replacement air dryers and cartridges to meet the performance and cost-per-mile demands of commercial trucks at each stage of the ownership lifecycle.
Available air dryers now include System Saver premium OE; WABCO Reman Solutions; and new ProVia quality aftermarket units. The company's air dryer cartridge offering comprises System Saver premium OE; new WABCO Essential mid-range; and Provia quality aftermarket cartridges. Each range of dryers and cartridges is engineered to offer best-in-class performance and value, the company said.