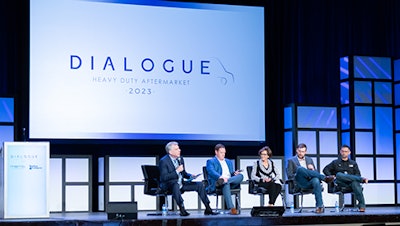 MEMA and MacKay & Company have begun announcing speakers for Heavy Duty Aftermarket Dialogue, which will be held Jan. 22, 2024, at the Gaylord Texan and precede Heavy Duty Aftermarket Week (HDAW) 2024.
Event organizers announced Monday HD Aftermarket Dialogue's session 'Real World View of the Aftermarket' will feature Ken Hogan, vice president general manager at Cummins-Meritor; Houman "HK" Kashanipour, CEO and president of Alliant Power; and Traci Melville senior vice president and general manager, Vehicle Group Global Products at Eaton.
In the session 'Insights from Distributor CEOs," panelists will be Tina Hubbard of HDA Truck Pride, Mike Harris of FleetPride and Brad Fulkerson of Aurora Parts & Accessories.
Other speakers already committed to HD Aftermarket Dialogue include MacKay & Company duo of John Blodgett and Bob Dieli, MEMA Senior Vice President of Government Affairs Ann Wilson and MEMA Original Equipment Suppliers COO Collin Shaw, Jonathan Randall, president at Mack Trucks and Mark Gottfriedson, partner at Bain & Company.
Organizers say the event will cover critical topics such as long-term parts forecasts beyond 2024, a deep dive into the independent heavy duty aftermarket, an analysis of economic indicators, engaging fleet and distributor panels and more. "This event provides a valuable and in-depth understanding of the current landscape and future trends shaping the industry," organizers state.
Registration for HD Aftermarket Dialogue is open now. For more information, and to register, please go to the event website.