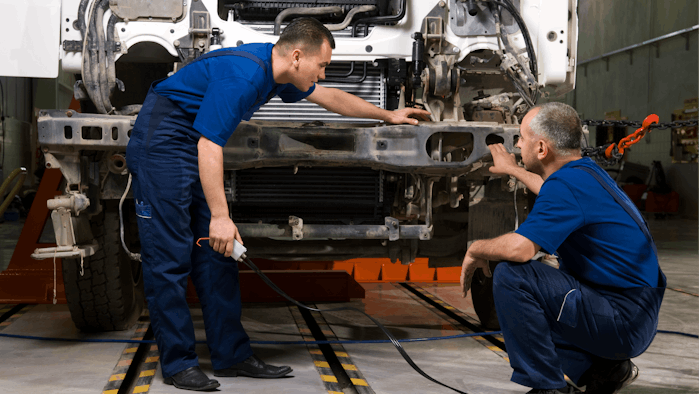 Every morning I sit at my desk and the first thing I do is check all my news feeds. I came across an article about how Tesla Inc. needs technicians for its electric trucks. I have to admit the story elicited a derisive chuckle as I muttered to myself, "Good luck with that."
The trucking industry long has had an issue recruiting and retaining diesel technicians. It probably started way back when, probably since a heavy-duty truck was first put to use. Yes, I am being hyperbolic, but many dealers and service shops likely feel the same way.
I don't know if Tesla CEO Elon Musk knows the words, "I can't." But finding technicians to repair and maintain electric vehicles could prove more difficult than sending people into space through Musk's SpaceX program and way harder than breaking with a steel ball the "unbreakable" windows on Tesla's CyberTruck pickup.
As Tesla readies to eventually deliver its first production Tesla Semi trucks to customers, it needs the support infrastructure for service and charging, according to the Elektrek story. While the automaker plans to support its customers, it's also looking for techs for its own use of Tesla Semi trucks.
As Elektrek points out, Jerome Guillen, president, heavy-duty trucking, Tesla, has posted the positions for service techs on Linkedin: "If you have experience in Class 8 service and are passionate about Tesla and its mission: please apply! You will play a critical role to develop the best truck ever!"
[RELATED: How to build a technician pipeline with school programs]
Tesla

Money solves lots of problems, especially when Musk is worth $1 billion 150 times over. So, what's my point? I will answer that with a hypothetical question. What makes Tesla think it can find these techs while the trucking industry has struggled to develop a reliable talent pipeline for years?
I feel obligated to give the data the trucking industry has come to know and dread. The U.S. Bureau of Labor Statistics (BLS) reported approximately 24,500 openings are expected each year, on average, between 2019 and 2029. Most of those openings are expected to result from the need to replace workers who leave the occupation. More specifically, the BLS reports about 7,600 of those openings each year, on average, are expected to stem from labor force exits, such as retirements, and about 15,900 of the openings each year are expected to be from workers transferring to other occupations.
One of the more successful ways of recruiting diesel techs has been through partnerships with technical schools, OEM programs, colleges and high schools, among other learning institutions. So I wondered: Are tech programs teaching students on how to be an EV technician?
I turned to industry experts who knows about training techs and feeding the pipeline.
One of which is Timothy Spurlock, CEO and founder, American Diesel Training Centers (ADTC). Apparently I wasn't the first to ask him about preparing students for alternative-powered trucks.
"I get the question all the time, 'What are you going to do about electric trucks?' Our stance is: Bring them on! They still need brakes, wheels, tires, preventative maintenance, HVAC. Our program actually does very little of diesel engine internals," Spurlock says.
That said, ADTC currently is developing an electric curriculum. ADTC knows major fleets that plan to be all-electric by 2040 and the training center will let them guide the way in terms of what ADTC develops. The curriculum will be basic fundamentals that will build a foundation and get techs moving onto higher levels and specific OEM procedures.
[RELATED: There's more to online technician recruiting than posting jobs]
Spurlock says it's no different than what ADTC does for diesel engines, "electric will be a small portion of our overall curriculum. We currently spend about a week on engines and I expect it to be the same with electric trucks. The advanced work is really better left to the OEM expertise."
Bill Betts, president and chief operating officer, Betts Company, says his company is working with schools on curriculum pertaining to non-diesel trucks. One such program is at Duncan Polytechnical Career Pathways High School in Fresno, Calif.
Duncan Poly heavy-duty truck program instructor Eric Rubio explains what students are learning about the next generation of trucks.
Students complete a chapter in high voltage electricity, which provides some essential reading for technicians working with or in close proximity to the high voltage electricity systems found in hybrid-electric, fuel cell and all-electric commercial vehicles.
The students then complete a chapter on hybrid and hydrogen fuel cell drivetrains. This chapter focuses on hybrid-electric vehicles (HEVs) and fuel cell systems that fall outside the high voltage drivetrain system.
[RELATED: Sales reps must become consultants for alternative fuel vehicle sales]
The curriculum includes a chapter titled Electric Powertrains. The construction and operating principles of the high voltage electric drivetrains used by hybrid-electric, fuel-cell powered and battery all-electric vehicles is studied, Rubio says.
There is much emphasis on the battery management systems required on electric drivetrain systems, Rubio says, including the operating principles of synchronous AC traction motors and the principles of solid state inverters.
"One of my main goals of the program is to teach the most relevant content possible to my students and being proactive and preparing for the instruction of future technology is something I take seriously," Rubio says.