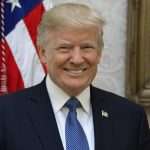 President Donald Trump today has made good on his plan to implement tariffs of 25 percent on steel imports and 10 percent on aluminum imports to "protect America's national security from the effects of global oversupply," according to the White House website.
The tariffs will affect imports from Canada, Mexico and the European Union, and are expected to go into effect at midnight Thursday.
When President Trump initially announced his plan in March, which was opposed by various industries, politicians and world leaders, he said his administration was willing to hold discussions with countries separately, especially NAFTA partners Canada and Mexico, in the hopes of reaching a decision amicable to both sides.
The Trump administration ultimately was unable to come to terms with Canada, Mexico or the EU. The U.S. had reached an arrangement with South Korea on steel, which was announced on April 30 and, since then, has reached arrangements on steel with Australia, Argentina and Brazil, and with Australia and Argentina on aluminum, according to the White House. In place of tariffs, the U.S. is placing quotas or volume limits on South Korea, Argentina, Australia and Brazil, CNBC reports.
Canada, Mexico and the EU already have announced they plan to retaliate with their own tariffs on American products, according to CNN Money.
Trump based his decision to implement the tariffs on the recommendation of the Department of Commerce, which submitted two reports in January following investigations into steel and aluminum imports under Section 232 of the Trade Expansion Act of 1962. The reports concluded that the global excess capacity for producing steel and aluminum is "weakening our internal economy" and jeopardizes national security.
Early on, industry associations, such as Motor and Equipment Manufacturers Association (MEMA) and the Association of Equipment Manufacturers (AEM), have been vocal about their opposition to the tariffs. MEMA has said the "tariffs will be detrimental to the jobs that the motor vehicle parts supplier industry created," and the AEM said it was "profoundly disappointed" by President Trump's decision.
In March, Volvo Group North America said, "the tariffs will obviously impact the cost of commodities we use to build our products, making them more expensive to produce and purchase."