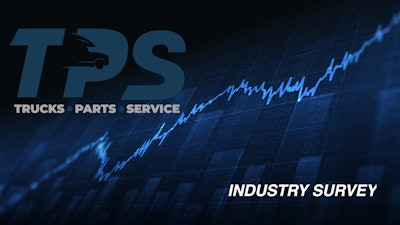 Business conditions for dealer and aftermarket operations slipped again in the third quarter, reaching the lowest levels ever recorded in the Trucks, Parts, Service MarketPulse quarterly survey.
Since its inception in the first quarter of 2022, the TPS MarketPulse survey has served as a barometer for sales and operational health in the medium- and heavy-duty dealer and aftermarket channels. During its first year, the MarketPulse was mostly a positive tracker of the two business units. Buoyed by record post-pandemic economic growth, survey responders regularly assessed business conditions as achieving or approaching their best quarter ever for most of 2022.
The first sign of market softening occurred after last year's third quarter, and has continued without disruption since.
[RELATED: Freight market likely to stay soft in final months of 2023]
In our third quarter 2023 survey, dealers rated business conditions as a 6.70 on our 1-10 scale (where 1 is the worst quarter ever and 10 is the best quarter ever). That is the lowest average dealers have assessed for business conditions in seven surveys — weaker than the 7.18 recorded in Q2 and the 6.94 that was projected by dealers for Q3 in our Q2 survey.
Aftermarket business was better, but only marginally. Aftermarket responders assessed business conditions as a 6.90 in Q3, also a historical low for our survey, though better than the 6.40 that had been projected in our Q2 survey.
Though no dealer responders to our most recent survey indicated Q3 was down more than 5% in year over year comparisons, 62% of dealers did reveal their business is down by up to 5% compared to Q3 2022. In the aftermarket, 11% of responders were down by more than 5%, with another 26% of responders down by 1-5% and 26% more responders equal to last year's Q3.
The continued softening also led to more direct feedback from survey participants.
One dealer noted the price inflation of 2021 and 2022 "is hard on our customers and significantly impacting our business." A second added, "I believe that many of our traditional year over year customers are not going to make it through 2024 financially."
Aftermarket responders were concerned about monetary chances as well, with one responder noting the reduction in prices of freight and material cost "will have significant impact to bottom line" after two years of inflation.
Expectations for Q4 and the start of 2023 also were bearish. Dealers and aftermarket responders alike predict business conditions for Q4 to average 6.30 on our 1-10 scale.
Looking out a bit further and adjusting for seasonality, a majority of dealers and aftermarket responders expect business conditions to be down year over year for the next six months. Nearly half (46%) of dealers expect business to be down 1-5% during that period, with 15% expecting year over year losses exceeding 5%.
In the aftermarket, 32% of responders see business remaining down 1-5% and another 5% say it will be down greater than 5%. No dealers and just 11% of aftermarket responders expect business conditions to be up at least 5% in the next six months.
Beyond economics, other concerns vary by channel. Every aftermarket responder claimed employee recruitment and retention of non-technician roles as a top-five concern. Among dealers, 77% say regulatory influence on trucking is a top-five concern. Used trucks also remains a headache, as 46% of dealers say that was their weakest business unit in Q3 and 68% continue to rank it as a top-five concern.
[RELATED: The used truck market trough won't last forever]
Yet despite economic stagnation and its related frustrations, most Q3 survey responders remain generally optimistic about their individual businesses. More than 80% of dealers (84%) and aftermarket responders (89%) still expect Q4 business conditions to be at least a 5 on our 1-10 scale.
Additionally, only one aftermarket responder in the entire survey indicated they may consider cutting staff in the coming months. That was the first responder to suggest downsizing in 2023. A majority of dealers (54%) and aftermarket responders (53%) also are still considering a business expansion.
TPS will conduct its fourth quarter MarketPulse survey in January and publish a brief synopsis of the data after it concludes.
Want to read more insights from our third quarter survey? Or participate in future surveys? We'd love to hear from you.
All truck and trailer dealers and independent aftermarket businesses are encouraged to participate in the TPS MarketPulse survey, and only businesses who choose to participate will receive complete survey results each quarter. For more information, and to register, please email [email protected].