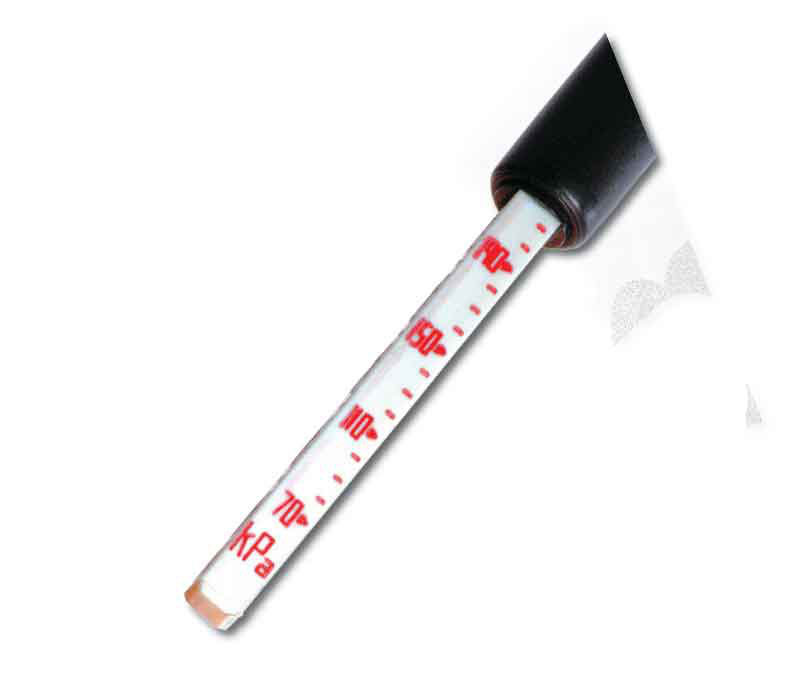 Tire pressure monitors, inflation systems could make tire gauges a thing of the past.
The days of the humble tire gauge probably have been numbered for awhile. Systems that could automatically detect tire pressures were on the market as early as the 1980s, when Imperial Clevite unveiled its Tire Tele. As of 2007, pressure monitors were even mandated on all new vehicles with a gross vehicle weight rating below 10,000 pounds.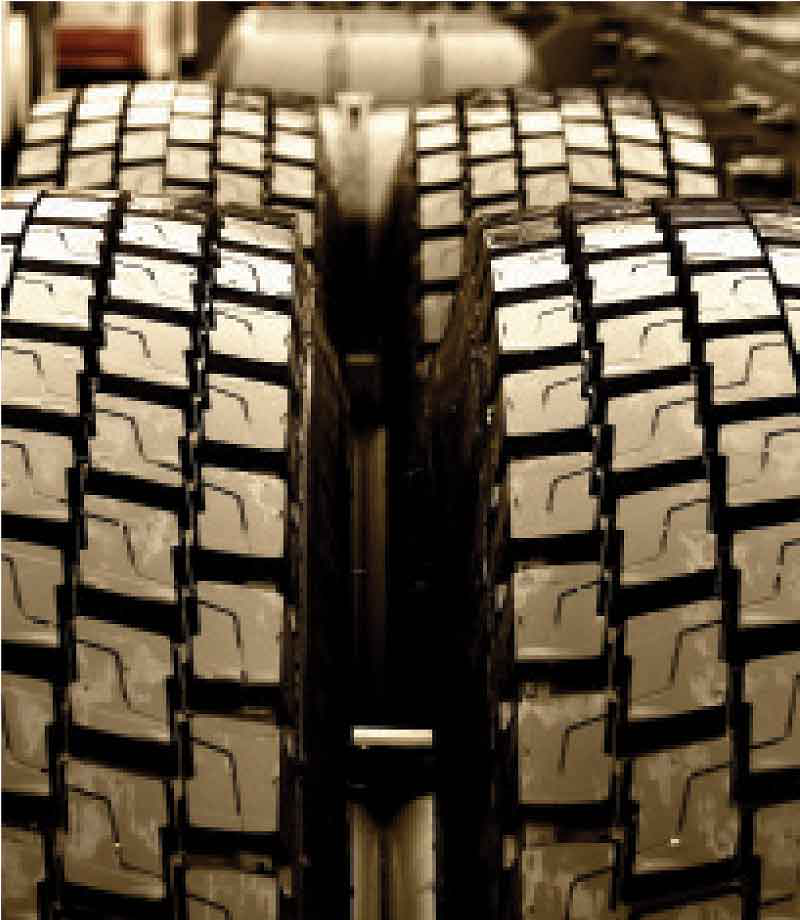 But while this equipment is a legislated reality on the family SUV – thanks in no small part to the power of the Transportation Recall Enhancement, Accountability and Documentation (TREAD) Act – the pressure monitors or automatic inflation systems for heavy-duty trucks and trailers need to be promoted on their own merits.
"It could be years before anything is mandated," admits Al Cohn, director of new market development and engineering support for Pressure Systems Inc., which offers the Meritor Tire Inflation System.
Even when the Federal Motor Carrier Safety Administration (FMCSA) unveils its latest research findings about the technology this February, the equipment's use is expected to remain voluntary. TireStamp, whose TireVigil system transmits tire data to drivers and fleet managers alike, reports that an approach similar to SmartWay is more likely. The Environmental Protection Agency uses that program to promote a long list of fuel-saving options.
"Each individual fleet has to look at its own bottom line," suggests Richard Van Dyke, vice president of Fleet Specialties, which offers the Tire Sentry monitoring system. And when the potential return on investment is considered, the benefits of today's tire pressure monitoring systems or automatic tire inflation systems can become pretty clear.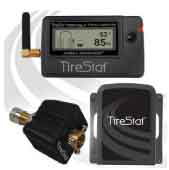 One of the promised returns comes in the form of fuel savings. Recent research by the Standards Testing Laboratory in Massillon, Ohio found that when pressure is allowed to drop as low as 70 psi, a truck tire's rolling resistance increases an average of 12 percent. In the real world of an on-highway tractor-trailer, the added effort to roll the tire equates to a 2.3 percent drop in fuel economy, researchers concluded.
Now consider how widespread the issue actually is. According to FMCSA's Office of Bus and Truck Standards, about 7 pecent of all tires are underinflated by 20 psi or more, and only 44 percent are within 5 psi of their target pressures.
"Diesel fuel is going to average $3 per gallon, and is projected next year to be up over $3.25," notes Brandon Stotsenburg, vice president of sales and marketing for Mobile Awareness, which offers TireStat monitors. "People are going to start seeing the return on investment of the systems going up."
The fuel saving potential is cited throughout the latest marketing material for most of these products. Meritor Tire Inflation Systems' thru-T and delivery hoses even have been colored a bright green to highlight the environmental benefits. But proper pressures are not just needed to save fuel. They can help to extend the life of tires as well.
The added flex in a poorly inflated tire will generate the heat that shortens the life of a casing, limiting the number of retreads or leading to an outright failure. The FMCSA went as far in one study as to suggest that improper tire inflation accounts for about one road call per tractor-trailer each year.
Tires also are expected to face some added scrutiny under the new federal carrier rating system known as CSA 2010, Cohn adds. Trucks and trailers with flat tires are penalized with eight points. Underinflated tires carry three.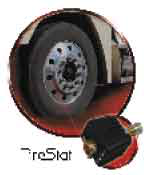 There is no denying that a properly calibrated tire gauge also can be used to monitor a tire — and it is the cheapest option of all — but anyone who has used one of the simple tools will understand why inflation issues often are hidden until the damage is done.
It can take 30 minutes to press a tire gauge onto 18 valve stems, so many truckers "monitor" their tire condition with nothing more scientific than a kick to the sidewalls. The traditional tire gauges are not always that accurate, either. "A lot of tire gauges very quickly get out of spec'," says Stotsenburg. Even a calibrated model can be off by several psi after being dropped on a shop floor.
The systems which address tire pressure can largely be divided into two separate categories. A tire pressure monitoring system (TPMS) offers a warning about
low tire pressure, while an automatic tire inflation system (ATIS) actually delivers air to offset any leaks. The warnings from electronic monitors can be delivered in the form of a light on the sensor itself, an RF signal that activates a monitor in the cab, or even cell signals which can send data as far away as a fleet office.
This technology also has proven to be quite accurate. After studying several options, the FMCSA concluded in a 2009 report that the equipment offered false low-pressure readings 6 percent of the time and missed the problems a mere 2 percent of the time.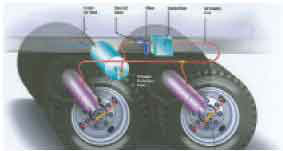 "The more frequent issue was 'no reads' resulting from missing sensors, failed sensors or sensors in the wrong wheel locations," researchers said.
In fact, one of the biggest challenges came in the form of keeping track of the valve-mounted sensors themselves. One of the conclusions was that users should train everyone who will come into contact with the systems, limiting the chance for sensors to be discarded, misplaced or simply mounted on the wrong wheel.
When attached to the wrong wheel, some sensors could fail to point drivers to a specific wheel end. "RF signals are floating around in the open market, so each sensor has a unique ID code," Stotsenburg explains. That ensures a monitor will not measure the low-pressure warning from another trailer parked nearby. Then again, this leaves room for improvement.
"They have to be able to do a drop and hook process that is easy, so when you hook up the seven-way [J560 connector], you have that communication transfer," he says, adding that his company plans to address the challenge with a 2011 product launch.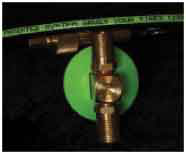 There are other variations in the systems. Some products, for example, allow the sensors to be programmed for different pressures, which could be useful for those fleets who want to set different thresholds for steer and drive axles.
An added component needed on combination vehicles often comes in the form of transceivers or antennas, which can relay signals from a trailer's wheels into the monitor mounted inside a truck. There is simply a lot of distance and metal to cover between the rear axle and the dashboard. TireStat, for example, mounts a transceiver on each monitored trailer; the Tire Sentry system includes an antenna under the cab; and Stemco's BatRF boosts the power of its messages with a 2.4 GHz signal.
TireStamp pulls information from a sensor mounted inside the tire, and uses telematics to feed the data everywhere from the dashboard to a fleet office. Email alerts are generated for problems such as a low tire or rising temperatures, but the company also offers a portal with charts and graphs which can be analyzed to support tire programs across the organization.
As the examples show, there are even differences in the way sensors are mounted in place. Some are strapped inside the tire, while others simply screw directly onto the valve stem or onto the end of an extender that reaches the stem on the inner tire of a dual wheel assembly. Mobile Awareness sensors take the latter approach a step further with a flow-through valve stem, so they do not need to be removed when topping up a low tire.
An anti-seize compound on the tire valve's thread will be particularly important to protect against any seizing or galling when the sensors are exposed to highways that are covered in de-icing compounds, Van Dyke adds of the threaded options.

There is no question that commercial wheel ends present a punishing environment for any of the products. In the FMCSA tests, for example, some sensors mounted to wheel housings became brittle, cracked and failed in the face of excessive heat. (That challenge was addressed by mounting an isolating pad on the bottom of the sensor, where it contacted the rim.)
As electronic products, the valve stem designs also require batteries to stay alive. Many sensors that do not allow battery changes extend the life of the units with an "intermittent" approach which measures the tire pressure at a pre-set interval, and only when the wheels are turning. When the battery dies after several years of use, the entire sensor needs to be replaced. In contrast, the Tire Sentry system sends out a continuous signal, and its simple watch battery can be replaced in the field.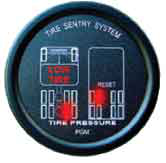 Automatic tire inflation systems take the monitoring a step further and actually offset any losses in the air pressure.In the case of the Meritor Tire Inflation System, the controls come in the form of a control box and regulator mounted onto a cross member. They feed air into the hollow trailer axle, and then out through the spindle into a rotary union. A couple of hoses deliver the air to the tire.
An added feature in the form of a ThermALERT sensor will even warn about problems that could lead to tire fires. A thermal screw, officially known as a eutectic insert, is mounted at the end of the spindle. If the heat begins to rise because of a problem such as a dry bearing, the insert's material will melt, and the 100 psi of air will begin to shoot through the 1/8-inch hole. "It will make this loud, obnoxious banshee noise," Cohn says of the warning.
Most of the Meritor systems are sold as original equipment, but one in every five still is installed in the aftermarket. While there is no question that they take more time to install than the sensors on a valve stem, technicians can equip a typical van trailer in a mere four hours, Cohn says. Specialized tools are limited to a press plug driver, and one of the few installation tips involves blowing out the axle to remove any debris before adding the connections.
Cohn also suggests watching over related torque values. The rotary union, for example, is attached with a mere 50 inch-pounds of torque. A tighter twist will lead to an unwanted leak.
There are differences in the systems to consider as well. The Dana Tire Inflation and Monitor System (TIMS), for example, feeds its air through hoses that run through the axle, rather than the tube itself.
But technology of every sort continues to feed the idea that traditional tire gauge may be a tool of days gone by. It will certainly help in the cases when the gauges are not used at all. n