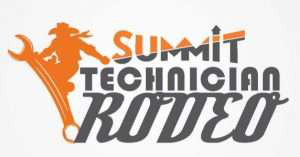 Thomas Pianalto, service technician at Summit Truck Group's Lowell, Ark., facility, took home first prize at the company's fifth annual Technician Rodeo on Saturday in Springfield, Mo.
Nearly four dozen Summit technicians participated in this year's event, representing each of the 27 markets in eight states within which Summit does business.
The company says as a prerequisite to participating in the Tech Rodeo, Summit service technicians first had to successfully complete all 12 required service certifications through Navistar, and then a written qualifying test. Top scorers on the qualifying test from each location were then eligible to participate in the rodeo.
For his first place finish, Pianalto received $5,000 plus a VIP experience for two for a NASCAR race. Service Technician Jeremy Thompson from Joplin, Mo., achieved second place overall and received $3,500; and third place was won by Derek Castle, from Little Rock, Ark., who received a $1,500 prize.
In addition, station prizes were awarded for each of the 14 challenge stations, with the first place technician at each station receiving $500; second place earned the winning tech $300; and $150 was awarded for third place. In addition to their overall wins, Pianalto received four station awards, Thompson won two station awards, and Castle scored highest on two station awards.
"This is the fifth year that Summit has held a Technician Rodeo, and they get better every year. The caliber of the technicians competing is always high, the competition fierce, and the support for this event by employees throughout Summit incredible," says Duke Fancher, vice president of Service Operations for Summit Truck Group. "Each of the 45 competitors is a winner by just participating in this event, and we were also pleased to see a large number of competitors this year who participated in the Tech Rodeo for the first time, which speaks well to the future of our service departments."
The rodeo took place in the Springfield Convention Center, and was organized by Jim Hinton, Summit's regional service trainer.
Summit Chief Operating Office Steve Dupuis says he was impressed with the skills level of the participants, noting that overall scores have been increasing, with this year being the first that the top three finishers all earned over 1,000 points out of the total 1,400 points possible.
"I was impressed with both the professionalism and technical abilities of our technicians, as well as the high level of support from vendors and other Summit staff who participated in this event," says Dupuis.
Summit says vendors who support this year's Tech Rodeo included Exxon Mobil, Cummins, State Tech, Dana, Navistar, Purkey's, Eaton, NanoMech, Central Power Systems & Service, NW Arkansas Tech, and Scott Regional Tech Center.