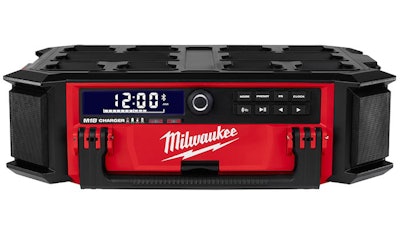 Milwaukee Tool announced it is growing its lineup of mechanics hand tools with the addition of three new ratchet and socket sets, two new breaker bars and a sound system.
Milwaukee's lineup of ratchet and socket sets now include 1/2-in. drive in addition to the 3/8-in. and 1/4-in. drive sets introduced a year ago. The ratchet in all of Milwaukee's ratchet and socket sets is designed with a slim profile head and 90 teeth delivering 4° of arc swing for better access in tight spaces, the company says.
The sockets feature a Four Flat Side design that stops rolling and allows the socket to be used with a wrench. All sockets are engraved with sizing. Each ratchet and socket set is arranged in a removable inner tray.
The new breaker bars are equipped with a 180° pivoting head and a ergonomic handle. The breaker bars are rust and corrosion-resistant, the company says.
Milwaukee also launched the M18 PackOut Radio + Charger, which is compatible with the PackOut Modular Storage System and equipped with 10 speakers and full-range connectivity, allowing users to stream sound wirelessly from more than 100 feet away.
"Milwaukee continues to raise the bar with best-in-class technology across all product categories," says James Grow, Milwaukee Tool director of product marketing. "Delivering the industry's ultimate jobsite sound system, this unique radio features not only Bluetooth 4.2 capability and the ability to charge all M18 batteries, but it is also fully PackOut compatible for easy transportation on and off the jobsite."
Complete with a 10-speaker system consisting of four full-range speakers and four tweeters, the radio delivers clear mids and highs. This, when paired with a subwoofer and passive radiator, provides powerful low-end, balanced 360° sound across large indoor and outdoor spaces. It also features full-range connectivity, Bluetooth 4.2, AM/FM radio with 18-station presets, and built-in auxiliary. Built for on and off the jobsite, the radio has an onboard, sealed storage compartment equipped with mobile device storage, a built-in M18 charger, USB 2.1A output for mobile device charging and an auxiliary input, Milwaukee says.
Through an intuitive and quick attachment mechanism, the PackOut Radio + Charger is designed to be accessed easily when stacked on top of or within an existing PackOut Modular Storage System. As the newest addition to the PackOut Modular Storage System, the radio can withstand up to 250 lb. stacked on top of it. The battery, cord, bottle opener and onboard storage is fully accessible when placed within a PackOut stack.
For increased durability, the PackOut Radio + Charger is water and debris-resistant, built with exterior protection on every corner, the company says.