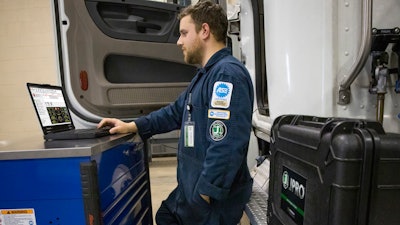 Noregon on Thursday announced a new feature for JPRO called Road Worthiness. JPRO is Noregon's diagnostic application for commercial vehicles and off-highway equipment.
Noregon says Road Worthiness is an embedded feature that scans the vehicle and assesses its safety and compliance status to determine if the vehicle is ready to operate on public roads.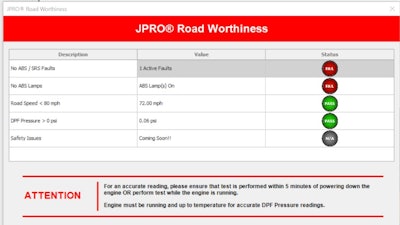 To pass the Road Worthiness check, Noregon states the vehicle must indicate the following:
No ABS faults are reported.
No dash lamps illuminated from safety systems.
Max road speed is set to less than 80 mph.
DPF Pressure is detected.
JPRO automatically scans the vehicle and presents technicians with a color-coded result (green, yellow, red) so they can quickly determine if the vehicle is ready to be released, or if it requires further diagnostics.
[RELATED: What drives customers to consider third-party telematics devices]
"Fleets and technicians alike can be fined if they fail to repair certain issues that affect emissions regulations," says Jason Hedman, Noregon product manager. "Road Worthiness helps technicians confidently complete their work without worrying about regulatory issues they may have missed."
Additionally, Road Worthiness helps improve road safety, the company says.
"Not all faults illuminate a dash lamp, or a dash lamp can burn out without the driver knowing, so it's critical to have a tool like JPRO scan the entire vehicle before releasing it to the customer," says Hedman. "At a time when retaining drivers is more difficult than ever, ensuring they always have a safe, healthy, and compliant vehicle is a major incentive to keep great drivers with your organization."
Road Worthiness is included in the latest version of JPRO, titled JPRO Professional 2023 v4, and active subscribers can update their software at no additional cost. The update also expands coverage for major manufacturers including Detroit Diesel and PACCAR while adding coverage for new Bendix components, Noregon says.