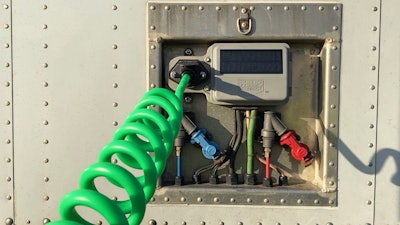 It was a little over two years ago when we wrote the days of calling dry van trailers "boxes with wheels" were numbered. After last month's Technology & Maintenance Council (TMC) Fall Meeting, it's safe to say those days are over.
Between announcements of new smart trailer systems from Drōv Technologies and Hyundai Translead and updates to Clarience Technologies' Road Ready platform, September's meeting was the second TMC get-together in a row to be dominated by trailer tech advancements. Admittedly, this year's event was double-themed, with electric trucks also earning plenty of attention. But as anyone who attended TMC can tell you, smart trailers are going to impact your business well before electric trucks will.
For those who haven't caught up on this technology yet, now is the time to check it out. There is great sales potential in smart trailer solutions.
[RELATED: TMC experts on preparing your service facility for EV work]
One reason is data. Trucking has been collecting real-time data on engines and tractor systems for years and today's smart trailers are a natural progression toward full connectivity. From wheel ends and tire inflation to interior cameras and asset trackers, smart trailer solutions enable fleets to monitor their assets and loads to ensure successful deliveries and reduce downtime. And if that's not enough, the data presented through most trailer telematics solutions can be tailored to a fleet's needs.
That flexibility can only help the sales process.
In introducing its HT LinkSense platform last month at TMC, Hyundai Translead Chief Sales Officer Sean Kenney said his company's new a la carte solution was designed "to meet customers where they are." Carriers familiar with tractor telematics may choose to use every feature of the tool on Day 1, while other carriers might have more implementation success by building up their solution over time.
"Just because a customer can get all this data doesn't necessarily mean they should," he said.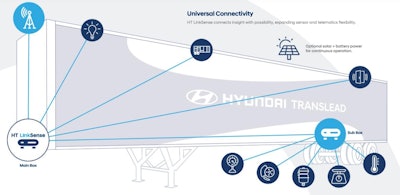 Road Ready uses its LogIQ integrated data platform to provide context and understanding for data compiled through its telematics solution, says General Manager Nada Jiddou.
"With digital advancements and adoption of smart options accelerating throughout the transportation industry, carriers and fleet managers run the risk of being hit with a data tsunami. More information is just more information if you aren't able to use it to your advantage and take action quickly," she says. "LogIQ integrates into our FleetViz interface to eliminate the endless portal hopping that's been a pain point with fleet managers."
The sales potential here should be obvious. If your customers are using the sensors and telematics systems installed on their trucks to stay out of the service bay, why wouldn't they want to do the same with their trailers? Especially when they can decide what data they receive?
Phillips Connect Executive Vice President Jim Epler says his sales team focuses on return-on-investment timelines when working with potential customers. He says carriers who question installation costs are often dumbfounded by ROI once the technology is in use.
"We have the ability to show the customers the health of their trailers and [the data] we receive is just staggering," he says.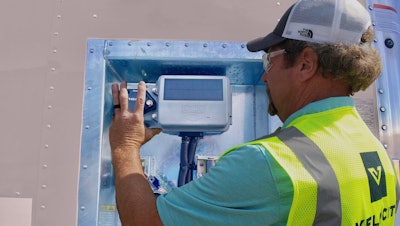 Another selling point of smart trailer systems are their adaptability. Epler says Phillips Connect's smart trailer solution works with "any existing 53 ft., dry van trailer" and many other trailer applications, while Road Ready and Drōv Technologies also market collaboration across many trailer brands. Systems providers say this versatility is essential to ensure fleets can adopt trailer connectivity across all assets, regardless of make and model.
These systems aren't only versatile in their make and model capabilities. By also seamlessly connecting with many on-board component sensors and asset tracking telematics, smart trailer systems offer fleets an elegant solution for aggregating trailer data. Rather than being tasked with monitoring individual data portals for every sensor on a trailer, fleets can choose a single smart trailer solution that tracks and houses all asset information in one place — or forward the data through an API to a carrier's existing telematics solution.
The sales potential of this all-makes flexibility should be obvious. When customers can gain insights on their equipment without being forced to alter their spec'ing preferences, they are expectedly appreciative. Says Jiddou about Road Ready's open, integration-friendly design, "We believe winning will come with our ability to integrate across as many platforms, smart systems and sensors as possible."
[RELATED: Why OEMs and truck dealers are investing in standalone parts stores]
This design is easier for customers to manage too. Kenney noted at TMC that Hyundai Translead prioritized integration with as many other solutions as possible before rolling out its HT LinkSense to ensure customers who purchase the system aren't overwhelmed by complexity. "We didn't want customers to need to have four gateways on each trailer," he said. "Our goal was to create a universal remote."
Finally, there's the matter of installation.
While some trailer OEMs are performing production line installations for smart trailer systems, most of the industry's biggest players have developed their solutions to be quickly installed in any service bay. Drōv Technologies Chief Technology Officer Pete Jankowski says his company's new AirBox One is a factory option with four OEMs but also can be installed as a retrofit in four hours. Road Ready's solution also touts a host of production line options and quick retrofit speed.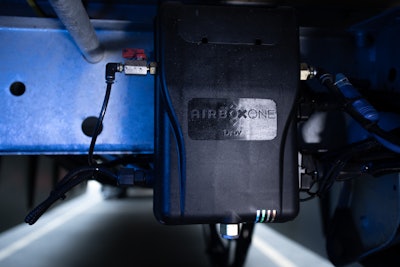 Being quickly retrofittable is essential for many of the nation's largest fleets who want to adopt the technology now rather than wait for the supply chain to normalize and spec smart trailer solutions with their next new trailer order, Epler says. That's why, despite being an OE factory option across multiple brands, he says Phillips Connect also has designed its solution to be retrofittable in an hour or less on "loaded or unloaded trailers" when installed by two technicians.
Epler adds Phillips Connect meets that swift time goal by including necessary smart trailer system components into factory-installed Phillips Industries trailer products, so they are already in place when a retrofit job begins.
"We can build a lot of our technology right into our nose boxes," he says. "We've built one complete solution where everything is built into the [nose box] lid. You pull the pin out and put the new lid on … takes five minutes."
Ultimately, technology providers say it's all about developing solutions that will make customers lives easier and businesses more productive.
"As fleets get more and more data from all areas of their operation, our goal is to make the jobs of fleet managers easier by analyzing the data and taking the guess work out so they can prioritize the insights and take action in real-time," says Jiddou. "It's not about adding new platforms, it's about helping them work across platforms."